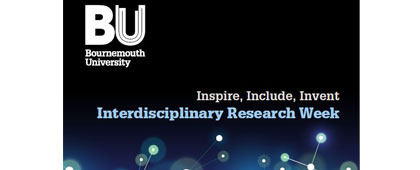 The BU Dementia Institute kicked off the Interdisciplinary Research Week last night with an inspirational and interactive lecture on improving the lives of people affected by dementia in Dorset.
Professor Anthea Innes opened the week and then went on to explain the interdisciplinary research that her institute carries out and the importance of collaboration in the community.  She informed the audience how the language used to describe the people diagnosed with dementia can often be negative and derogatory and how people are often treated differently upon diagnosis.  The Institute work with care providers, hospitals, GPs, etc. to change their perception and enable better lives for those diagnosed with dementia.
Anthea handed over to her team to show some of the ways that lives can be improved and how a dementia diagnosis does not mean that you can no longer learn.  Andy Baker from the BUDI orchestra had half the audience clapping to the 'oo-ah' parts of 'oo-ah Cantona, say oo-ah Cantona' and the other half clapping to the 'wood' and 'chuck' in 'how much wood could a woodchuck chuck if a woodchuck would chuck wood'.  This was not an easy task but a good demonstration of how to play your part in an orchestra.  He went on to show how his work had given people diagnosed with dementia the ability to learn something new and engage in a rewarding activity.
Clare Cutler then talked about the Intergenerational Technology club where school pupils have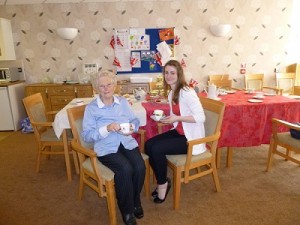 welcomed people with dementia and their carers into their schools to work together in an after school club where they have been learning to play on the wii, xbox and ipads together.  This way of working offers opportunities to educate younger generations about dementia and to combat associated stigma, ignorance and fear of what it might mean to live with dementia. 

Samuel Nyman ended the evening with an enthusiastic lecture on 'Falls Prevention' and how the amount of time we spend being sedentary increases our chances of falling and injuring ourselves.  Research has shown that the more active we are in our 30's and 40's will decrease our chances of developing dementia.  Samuel's research is looking to develop behavioural change techniques that can be used to encourage a much more active lifestyle.  He showed a clip of people choosing to use an escalator instead of the stairs.  The stairs were transformed into a working piano overnight and usage of the stairs increased by 66% the next day. 
It was an excellent evening with a great opportunity for the audience to engage with the BUDI team.  I'll end with just one of the positive comments from the audience, which was 'Wonderful to hear from such enthusiastic and passionate presenters forging strong partnerships with those in the community. Many thanks.'
There are nine more interdisciplinary research events being held this week and so please do come along: https://research.bournemouth.ac.uk/interdisciplinary-research-week-2015/.  Today's events are: