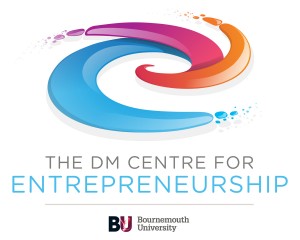 The BU Centre for Entrepreneurship participated in a high profile event at the EBC on Wednesday 20 May looking at Entrepreneurship in the 21st Century.
Attracting over 80 delegates, including CEO's, Directors, entrepreneurs and BU students, the event was organised by Barclays and sponsored by BU and Saffrey Champness. It aimed to facilitate discussion with founders and experts from the South Coast and included an exhibition area where current and past BU students, Static Games, el RHEY and Cub-Bee-Hole, demonstrated their entrepreneurial skills by showcasing their own products and services.
Mark Painter, Centre for Entrepreneurship Manager, who welcomed the delegates on behalf of BU, said, 'we were delighted to have the opportunity to support and take part in this event. The feedback from the delegates was extremely positive and I am looking forward to building on this activity and exploring other ways for us to work with organisations like Barclays and Saffrey Champness to support entrepreneurs'.
Craig Jamieson, Regional Director of Barclays Wealth & Investment Management introduced Matt Macri-Waller, Founder and CEO of Benefex, who gave an inspiring and entertaining insight into his own journey as an entrepreneur and his approach to tackling the various obstacles he has faced.
This was followed by a panel discussion, moderated by Richard Heggie, Head of Proposition and Delivery for Entrepreneurs at Barclays Wealth and Investment Management, which provided a fascinating insight into the issues, challenges and opportunities facing the entrepreneurs of today and the future.
Panel member, Nigel Jump, BU's Professor in Regional Economic Development, reminded delegates of the challenges facing the UK in terms of needing to increase productivity and observed that it will be the entrepreneurs who will drive UK economic growth. The other panellists were Matt Macri-Waller, Founder and CEO of Benefex, Nick Fernyhough, Partner of Saffery Champness, Georgina Hurcombe, Founder and Managing Director of LoveLove Films, and Richard Phelps, Managing Director, Accountable Executive for Entrepreneurs at Barclays.
Mark Painter added, 'this event is another great example of the Centre for Entrepreneurship working in partnership with other organisations to help share knowledge and expertise and really demonstrates BU's commitment to engaging with and supporting the business community.'