I have just returned from a trip to Asia where I attended ICE – International Conference on Events in Macau (a joint organisation between BU and the Institude for Tourism Studies in Macau), followed by a short visit to Hong Kong to train agents on the portfolio of courses offered by the Faculty of Management, in particular the Events & Leisure portfolio.
At ICE I presented two papers and both were co-authored with undergraduate students that I have supervised.
The first one was together with Kate Adams, who is graduating in November. Her dissertation focused on the Strategies employed by wedding planners to manage clients' unrealistic, fuzzy and implicit expectations. Her research offers a clear framework of management techniques based on the real life experiences of wedding planners. As unrealistic, fuzzy and implicit expectations can occur in any service, the findings can provide a useful tool to all managers, not just those in the wedding industry, to understand how to effectively manage client expectations and ensure that customer satisfaction is being achieved.
The abstract was accepted with no changes, with the following comment made by the reviewer: "This is definitely one very interesting piece of submission to the conference I'm sure. It makes a lot of sense to use expectation management to frame the current research". Comments at the conference were similar. Attendees said they found the research very well organised and innovative.
I recently met with Kate for a catch up, and we had the opportunity to take a picture with the certificate. During our conversation we also discussed the possibility of extending the data collection to include a wider sample of event organisers. The objective is to improve the research and enhance the chances of getting the paper accepted by a higher quality journal.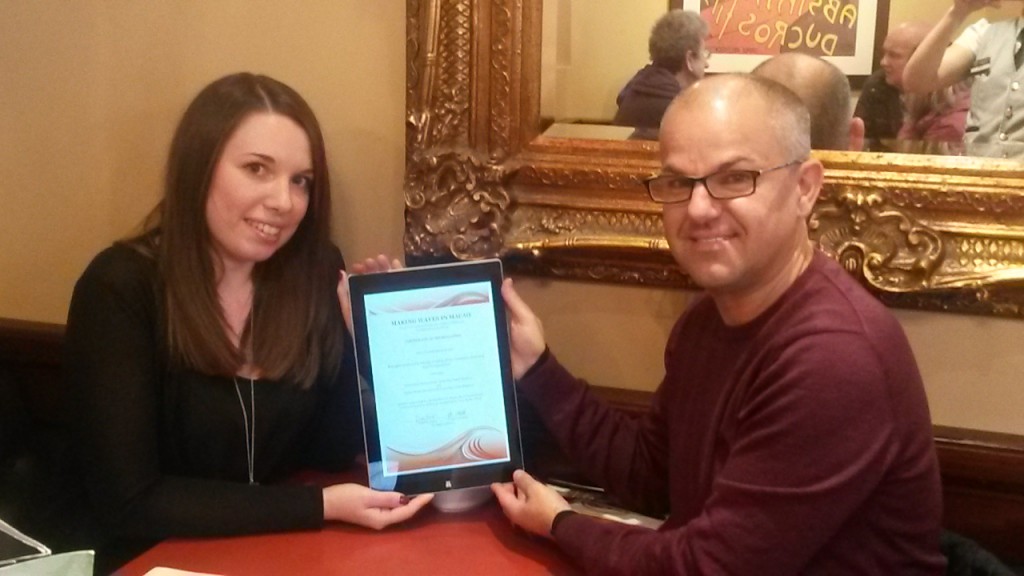 The second presentation was on the Cognitive and emotional reactions to the consumption of prestige in events, co-authored with Amy Bain, a 2014 BA Events Management graduate.
A practitioner event manager who attended the conference highlighted this presentation as one that stood out in his mind (together with the presentation by Dr. Caroline Jackson, Head of Events & Leisure at BU). In his words: "As an event designer I was intrigued with talks on motivation and experience. Miguel Moital and Amy Bain presented interesting findings on "Emotional Reactions to The Consumption of Prestige in Events" while Dr Caroline Jackson presented "The Lived Experience of Popular Music Festival-Goer". You can see his view of the conference here.
One of my favourite parts of being an academic at BU is the opportunity to supervise student dissertations. In the past I've supervised very good dissertations, some of which have resulted in journal articles. Not only they are well designed studies, but many are quite innovative in terms of both the topic and methodology. By looking at the reactions of other academics (and practitioners!) at ICE, they agree.
Now that my e-book on "Writing Dissertations & Theses – What you should know but no one tells you" is out, and I continue to add content to it, I am optimist that the quality of the dissertations I supervised will increase even further, leading to many more papers in the future. (You can have a peak at the book here. If you are a BU academic, send me an email (mmoital@bournemouth.ac.uk) and I will return with a code that allows you to 'buy' the book for free)