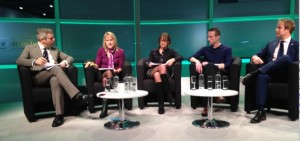 Last week Dr Jane Murphy was invited to participate in a Panel discussion at the national 'Food Matters Live' at the ExCel , London on the highly topical issue of 'Making Malnutrition Matter'. The panel session was chaired by Justin Webb from the BBC Radio 4 Today programme who proficiently handled a great discussion on this ever increasing problem in the UK today. Malnutrition is a common clinical and public health problem in the UK, affecting more than three million people in England and Wales and about one in 10 people over 65 are now malnourished. 93% of these people live in the community resulting in 60% of carers worrying about the nutrition of the person they care for.
Jane was joined by other leading experts from industry and practice and discussed how the challenge of malnutrition can be addressed, ways to increase awareness of the problem and action across all community settings and solutions through multi-stakeholder approaches.
Bournemouth University also had a stand at the event which offered a great opportunity to raise the profile of our research and nutrition programmes at BU. Some of our undergraduate and postgraduate students attended this key annual event and engaged with a range of people including health and nutrition professionals, academics, food and drink manufacturers and professional bodies.
Looking forward to Food Matters Live 2016!