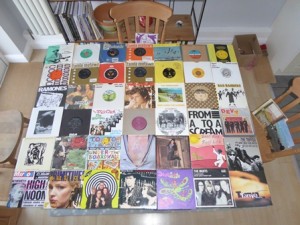 I recently received 45 45's (7" singles or if you're still too young, small records) for my birthday (guess how old I was?). I thought I would make a shameless attempt to cram some of the records into a research focussed blog post. Here goes!
I fall to pieces (by Patsy Cline) – most funder success rates are lower than 20% and so don't be disheartened when that rejection email pops in your in-box. Statistically, you only have a one in five chance of being successful and so do 'try and try' again. RKEO are here to support you and our Facilitators can review your unsuccessful applications and funder feedback to see how your next application can be stronger and successful.
You don't miss your water (till your well runs dry) (originally by The Byrds but I have it by The Triffids) – don't wait until your last grant has finished to apply for your next; start planning your next applications a year before your grant ends. Have a chat about your research plans with RKEO and submit your next intention to bid form to your Funding Development Officer.
Monotony (by Sauna Youth) – it can sometimes seem like you're on a research funding treadmill but remember why your research excites you and why it should excite others. Think about the impact your research can have to society and find inspiration with the KEIT team.
Dancing in the dark (by Bruce Springsteen) – sometimes it can feel like that as an academic in the competitive world of research funding, but as Bruce said in the song – 'you can't start a fire without a spark' and so make sure you are a 'gun for hire even if you're just dancing in the dark'. We have lots of opportunities to interact with other academics and RKEO can help you make those connections and collaborations. We also hold 'sandpit' events where you can form interdisciplinary teams to submit new and exciting research ideas for external funding. Check out our research blog for the next sandpit.
Here comes the summer (by The Undertones) – well, it's almost here and a good time to really think about those research plans as you set your objectives for the next academic year. Have a chat with the RKEO team about how we can support your plans and what development opportunities we have available to you, particularly to support your application writing.
Complete control (by Clash) – you do have control over your research career and RKEO are here to help. Get in touch and see what we can do for you.
Hey ho, let's go (by Ramones) – as Joey said 'they're all revved up and ready to go'. I hope you are feeling this way by now and that this will lead to Success – (by Iggy Pop).