The Je-S System (RCUK account and project management system) announced the following changes in relation to the Orcid identifiers which are being implemented.
The Open Researcher and Contributor ID (ORCID) provides a free registry to obtain a unique digital identifier for researchers and scholars and allows them to manage a record of their research activities.
For researchers, an ORCID identifier supports automated linkages between them and their professional activities to ensure their work is properly recognised. ORCID records hold information such as name, email, organisation and research activities. Individuals control how their data is shared through managing data privacy settings within their ORCID account.
The ORCID identifiers will now be collected in the Je-S System to allow the Research Councils to link and share information across systems more easily
Within the Je-S 'Account Creation' and 'Personal Details' screen, there will now be the option to allow Je-S users to add their ORCID identifier (and create an identifier if they do not already have one). This will re-direct the user to the ORCID website where they will be required to give consent for Je-S to access their ORCID identifier, before returning them back to Je-S.
Users creating an Account for the first time will see;

Existing Je-S Users can add an ORCID identifier by updating their Personal Information;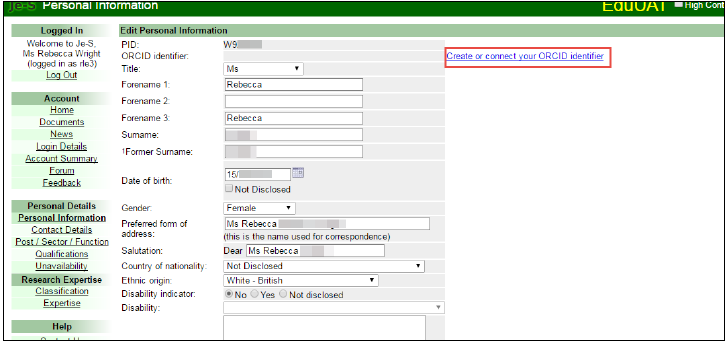 You will then be directed to the ORCID website.
Please contact the Je-S Helpdesk if you require any further information about the System release or if you experience any issues with the Je-S System.
Email: JeSHelp@rcuk.ac.uk Phone: +44 (0) 1793 44 4164
other relevant Blog articles:
http://blogs.bournemouth.ac.uk/research/2016/04/07/your-orcid-id-now-visible-on-the-staff-profile-page/
http://blogs.bournemouth.ac.uk/research/2015/12/10/research-councils-grants-system-to-capture-orcid-ids-from-early-next-year/
http://blogs.bournemouth.ac.uk/research/2016/02/04/update-your-orcid-id-on-hrcore/