In the May issue of research*eu, there is plenty of interest to researchers at Bournemouth University: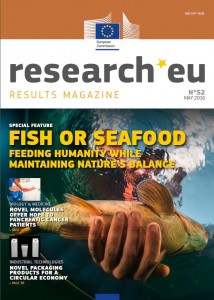 Special feature:
'Fish or seafood: feeding humanity while maintaining nature's balance'
Interviews:
Dr Prof. Alfonso Perez-Rodriguez of the Institute of Marine Research in Norway on 'A multispecies approach to fish management in the Flemish Cap'
David Villegas Rios of the Institute of Marine Research in Norway on 'How fisheries impact behavioural evolution in Atlantic cod'
Ferenc Lévai of Aranyponty Zrt in Hungary on 'Sustainable, faster and more productive aquaculture of catfish'
Dr Tore Kristiansen of the Institute of Marine Research in Norway on 'Novel methods to evaluate fish response to stress'
Other highlights:
Novel methods to evaluate fish response to stress
STEM resources repository helps improve teaching across Europe
Nature inspired 'glue' to fix broken bones
Flexible, cost-effective and efficient LED lighting panels and solar cells
Innovative model for understanding risk trading and global markets
Immigrant populations in focus
Newly published findings show species-diverse forests bring greater ecological benefits
Major scientific breakthrough with the creation of the first biological supercomputer
Enhanced crypography means more secure data
Novel packaging products for a circular economy
Extensive exploration of personalised nutrition as a way to better health
Why not check out this issue, and previous magazines, for projects related to your research interests and who, in your field, is leading the field with European Commission funding. You never know, you might find your next grant partner here.
The next issue will focus on the path to life beyond earth – ensure that you see our next update  by signing up to your own BU Research blog alerts.
If you have completed or are close to completing EU-funded project, you could be appearing in a future issue of this magazine – check out how to do this on the back page of the current magazine or contact your Project Delivery Officer.
If you are looking for partners or would like to offer your expertise on a bid, add your profile to CORDIS and to Piirus.
For assistance with your EU and International funding, contact Emily Cieciura, RKEO Research Facilitator: EU & International or your Faculty's Funding Development Officer.