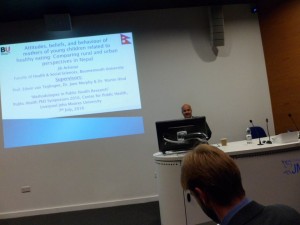 Mr. Jib Acharya (FHSS) gave an interesting presentation yesterday about the qualitative research findings of his PhD at Liverpool John Moores University.  Jib's PhD research focused on the knowledge, attitudes and beliefs of poor women in Nepal about healthy eating and the study also identifies major food barriers.
His mixed-methods approach combines a quantitative questionnaire survey with qualitative research. Jib's research project is supervised by Dr. Jane Murphy, Dr. Martin Hind and Prof. Edwin van Teijlingen. Some of the preliminary findings of this FHSS thesis have already been published in two scientific journals [1-2].
References:
Acharya, J., van Teijlingen, E., Murphy, J., Hind, M. (2015) Assessment of knowledge, beliefs and attitudes towards healthy diet among mothers in Kaski, Nepal, Participation 17(16): 61-72.
Acharya, J., van Teijlingen, E., Murphy, J., Hind, M. (2015) Study of nutritional problems in preschool aged children in Kaski District in Nepal, Journal of Multidisciplinary Research in Healthcare 1(2): 97-118.

http://dspace.chitkara.edu.in/jspui/bitstream/1/560/1/12007_JMRH_Acharya.