A few days ago a group of researchers from the UK, Nepal and South Korea listed as the top five authors writing on migrant workers' health-related research in Nepal.  Their recent paper 'Migrant workers' health-related research in Nepal: A bibliometric study' was published last week in the journal Dialogues in Health (Elsevier) with as lead author Dr. Sharada P. Wasti from the University of Greenwich [1].  The team conducted a systematic search of published literature on Nepalese migrant workers' health was conducted in Scopus, Medline, CINAHL, Embase, PsycINFO and Web of Science, followed by a bibliometric analysis. The search of databases retrieved 520 records, and a total of 161 papers were included in the analysis. Bibliometric analyses were performed to create visualisation maps.  The team found that most articles were published on infectious diseases, followed by health and lifestyle, sexual and reproductive health, access to health services, workplace safety, maternal health, and health systems and policy.

Their search found that 533 researchers originating from 24 countries contributed to the pool of literature. It also lists the top five authors in the field in Table 5.   We were proud to find out that all five top author positions are affiliated with Bournemouth University (BU): three are current BU staff, Dr. Pratik Adhikari one is a BU PhD graduate, and Prof. Padam Simkhada from the University of Huddersfield, is BU Visiting Faculty.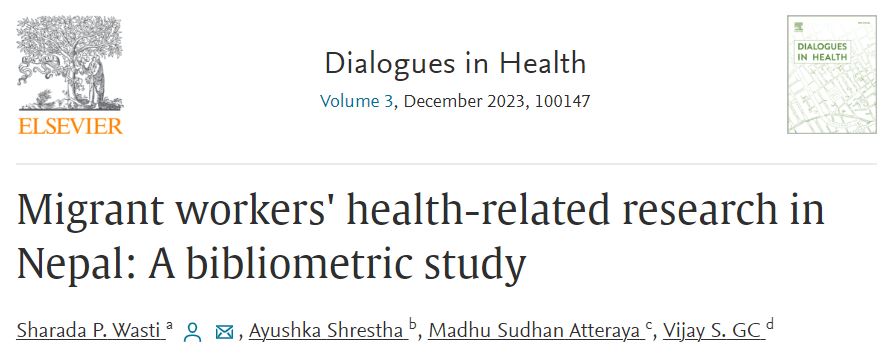 References:
Wasti, S.P., Shrestha, A, Atteraya, M.S., GC, V,S. (2023) Migrant workers' health-related research in Nepal: A bibliometric study, Dialogues in Health 3: 100147, https://doi.org/10.1016/j.dialog.2023.100147.