BU academics in CMMPH (Centre for Midwifery, Maternal & Perinal Health) have been working with colleagues across the UK in the so-called McTempo Collaboration on mapping the key characteristics of midwifery-led antenatal care models. This week BMC Pregnancy & Childbirth published our paper that brings this evidence together [1].  The lead author of the paper, Dr. Andrew Symon, is based at the University of Dundee his co-authors are based at the University of Stirling, UCLAN, Queen's University, Belfast, NHS Education for Scotland and Bournemouth University.  The McTempo (Models of Care: The Effects on Maternal and Perinatal Outcomes) collaboration is a multi-disciplinary and multi-institutional research grouping established to explore and evaluate differentcare models used in maternity care.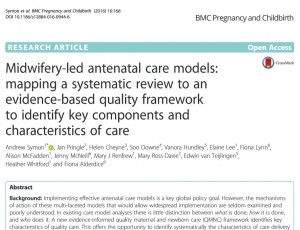 Our specific aim in this paper was to map the characteristics of antenatal care models tested in Randomised Controlled Trials (RCTs) to a new evidence-based framework for quality maternal and newborn care (QMNC)
[2]
. This offers the opportunity to identify systematically the characteristics of care delivery that may be generalizable across contexts, thereby enhancing implementation.  The paper concludes: "The QMNC framework facilitates assessment of the characteristics of antenatal care models. It is vital tounderstand all the characteristics of multi-faceted interventions such as care models; not only what is done but why itis done, by whom, and how this differed from the standard care package. By applying the QMNC framework we have established a foundation for future reports of intervention studies so that the characteristics of individual models can be evaluated, and the impact of any differences appraised."
The paper has been published in an Open Access journal and is, therefore, easily available across the globe.
References:
Symon, A., Pringle, J., Cheyne, H., Downe, S., Hundley, V., Lee, E., Lynn, F., McFadden, A., McNeill, J., Renfrew, M., Ross-Davie, M., van Teijlingen, E., Whitford, H, Alderdice, F. (2016) Midwifery-led antenatal care models: Mapping a systematic review to an evidence-based quality framework to identify key components and characteristics of care BMC Pregnancy & Childbirth 16: 168 http://www.biomedcentral.com/1471-2393/16/168
Renfrew MJ, McFadden A, Bastos MH, Campbell J, Channon AA, Cheung NF, Audebert Delage Silva DR, Downe S, Kennedy HP, Malata A, et al. (2014) Midwifery and quality care: findings from a new evidence-informed framework for maternal and newborn care. The Lancet, 384(9948): 1129-1145.