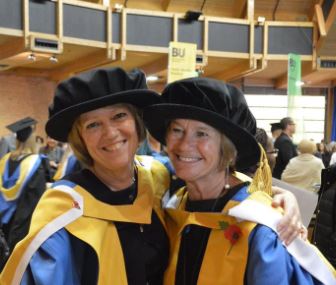 Alongside Bournemouth University's midwifery and other health and social care students who graduated in last Friday's ceremony, BU honoured prominent midwife Sheena Byrom OBE with an Honorary Doctorate for her services to the profession. Sheena Byrom gave an inspiring speech at Friday's Graduation.  Sheena said, "If they can keep in their hearts the passion and the drive they had when they first came to the university, it will help them to be more resilient and keep them motivated towards what they want to do. Healthcare is a blend between love and science and both are equally important. In practice, it is key that they have the skills, but the things that makes the difference are love and compassion."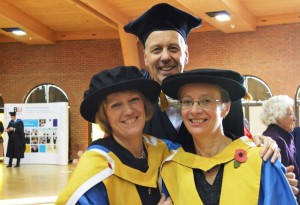 Alongside Sheena two students from the Centre of Midwifery, Maternal & Perinatal Health(CMMPH) graduated with a PhD in Midwifery.  Dr. Alison Taylor received her PhD for her qualitative research on breastfeeding. Her thesis is entitled 'It's a relief to talk ….': Mothers' experiences of breastfeeding recorded on video diaries.  Dr. Rachel Arnold was awarded her PhD for her research Afghan women and the culture of care in a Kabul maternity hospital.
Congratulations to all BU undergraduates and Rachel, Alison and Sheena!
Prof. Edwin van Teijlingen
CMMPH