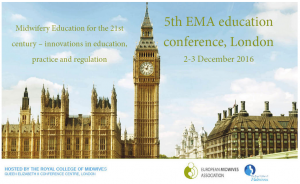 The CMMPH was well represented at the above international conference highlighting innovations in education, practice and regulation. The conference was held this year in London and attended by HRH The Princess Royal. Presentations from CMMPH colleagues ranged from developing a common framework for assessing practice and innovative on-line education approaches, to dignity and care in pregnancy and childbirth and how evidence is utilised in practice.
Presentations (oral and poster) include:
i) Grading Practice: A common framework to aid consistency and parity across midwifery education programmes in the UK, Fisher M and Way S
ii) Dignity and care in pregnancy and childbirth: Educating student midwives, Hall J and Mitchell M I
ii) The BRIEF randomised trial: do Cochrane summaries help midwifery students understand the findings of Cochrane systematic reviews? Alderdice, F and Hundley, V
iv) UUPP study: Updating the understanding of perineal practice at the time of birth across the UK, Stride, S, Hundley, V, and Way, S.
v) Promoting physiological birth in Malta: reflection on an educational project. Poster, Hall J and with three midwifery colleagues from Mater Dei Hospital, Malta
vi) Not just ticking the boxes: online practice assessment in midwifery. Poster, Angell, C. Wilkins, C., Leamon, J. and Way, S.
Other research that is currently ongoing at BU, but was highlighted at the conference was the Interim report of the Human Rights & Dignity Experience of Disabled Women during Pregnancy, Childbirth and Early Parenting. Hall, J., Collins, B., Ireland, J. and Hundley, V.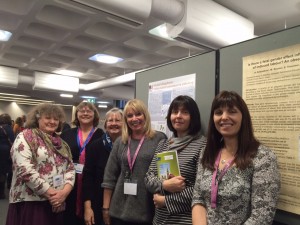 The photo is of (L-R) Jenny Hall, Sara Stride, Sue Way, Carol Wilkins, Catherine Angell and Vanora Hundley.