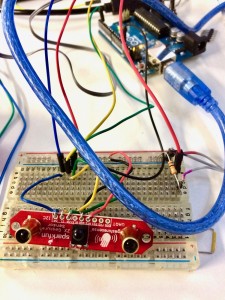 Access to Music is a HEIF funded project situated in the department of Creative Technology and the Emerge Research Group.
The aim of this project is to work collaboratively with local schools for children with Special Educational Needs (SEN) to increase access to music technology.
UK SEN schools face multiple barriers when using music and music technology to engage and improve the wellbeing of children with Severe Learning Difficulties (SLD), Profound, Multiple Learning Difficulties (PMLD) or issues such as Attention Deficit Hyperactivity Disorder (ADHD). This project will explore and identify these barriers in order to develop a suitable solution to promote and unlock new avenues for music technology for both children and music specialists in the surrounding SEN schools.
So far we has initiated links with Montacute & Linwood schools to establish collaborative projects working with a range stakeholders within these settings.  Each school has its own unique barriers to content with, so the main challenge is to come up with bespoke solutions for each setting.
Key people involved in the running of this project are Dr Tom Davis, PI,  Phil Hallet Co-I (CODA music coda.org.uk) & Dr Ane Bevan Co-I.
The project is supported by Dan Pierson who has been employed as a research assistant.
Recent activity has been a 2 day hackathon (see photo) to prototype possible technical solutions to issues identified by stakeholders.
Outcomes from this project will be presented in a number of settings including a Festival of Learning event on 8th July 2017.