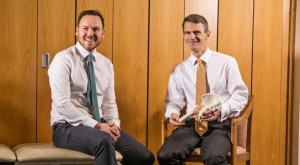 It's British Science Week 2017 and to celebrate we're sharing some of our science research stories, to highlight some of the fantastic research taking place here at BU. Today we're looking at the Orthopeadic Research Institute (ORI).
Living well in older age is increasingly becoming a concern for our society. A key priority for our health services is to enable people to stay healthy and independent for as long as possible. BU's newly established Orthopaedic Research Institute (ORI) is addressing this need by carrying out research to improve orthopaedic practices and patient care, thus supporting people to improve their activity levels and mobility as they age. Orthopaedics will become a critical issue as our population ages, as longer and more active lives will increase the risk that joints will wear out and replacements or treatments will be needed.
Deputy Head of ORI Associate Professor Tom Wainwright explains: "Knee and hip problems are going to become more prevalent, so we're going to need better solutions to manage that; whether it's better surgical procedures or better nonsurgical interventions. We have some very effective treatments in orthopaedics, but they're not 100% effective, so part of our role is to work out how to make them better – improve them, through developing better surgical techniques, testing new medical techonology or developing better rehabilitation processes."
Between them, Associate Professor Wainwright and Head of ORI Professor Rob Middleton have a wealth of clinical and research expertise. Professor Rob Middleton is a practising orthopaedic surgeon, specialising in hip replacement, while Associate Professor Wainwright is a physiotherapist and clinical researcher. They carried out research alongside their clinical practice before joining BU and have a national and international reputation for their work to date.
One of their biggest successes so far is speeding up the recovery process after hip and knee surgery, which has led to their work being cited in best practice health guidelines around the world. This approach, called Enhanced Recovery after Surgery, seeks to minimise the impact of surgery and accelerate recovery by employing strategies throughout the patient pathway, to improve outcomes and reduce the need for medical interventions. Their research into this area was a first in the UK for orthopaedics and demonstrated its value to patient care, as well as showing an improvement in patient and staff satisfaction and leading to significant cost savings to hospitals.
A more recent example of their work is a programme developed with local partners in Dorset called CHAIN – Cycling Against Hip Pain – which is designed to help people to live well with conditions such as osteoarthritis and to improve their mobility. The programme provides a combination of education and static cycling sessions,designed to improve mobility and increase people's confidence in managing their conditions. The results have been excellent, with patients reporting improvements in walking, finding daily living tasks easier and most importantly, decreases in pain. Even the least likely candidates have seen improvements, demonstrating the value of education and exercise in improving patient care and in helping to reduce or delay the need for further medical interventions.
"As well as developing interventions to help patients recover from surgery and manage their conditions. We also work with a number of global orthopaedic companies to test and run clinical trials
on the latest orthopaedic technology," says Associate Professor Wainwright. "We work with companies such as ZimmerBiomet, Lima Corporate, and Firstkind Ltd to ensure that their technology is delivering the best possible outcomes for patients."
One example of their work with ZimmerBiomet was to explore ways to improve the technology used in hip replacements. The hip joint is a ball and socket joint and one of the risks of hip replacement is dislocation; where the new ball comes out of the socket. ORI's research has shown that a larger ball reduces the risk of dislocation, and does not adversely affect the rate of wear.
"We currently have five trials underway within local hospitals and more to come," explains Associate Professor Wainwright. "These trials are looking at different ways that we can improve the medical technology used in orthopaedics and means that not only are we contributing to improving future care, but we're also bringing the latest technology to Dorset and improving care in the local area. As Dorset has a very high proportion of orthopaedic surgeries, there is potentially a very large group of people we can benefit."
"We take a very interdisciplinary approach to our research. Establishing ourselves within BU is a real advantage for us, because we can draw on the expertise of colleagues in other areas of research, including other health professionals, psychologists, technologists and engineers," explains Associate Professor Wainwright, "Ultimately, our driving force is that we wantto ensure that everyone gets the best possible treatment for their condition – it's just the right thing to do."
Wainwright, T.W., Immins, T. and Middleton, R.G., (2015) A cycling and education programme to promote self-management and to increase functional ability in patients with osteoarthritis of the hip. Osteoarthritis and Cartilage, 23 (2), 372.
Howie, D.W., Holubowycz, O.T., Middleton,R. and Grp, L.A.S., (2012) Large Femoral Heads Decrease the Incidence of Dislocation After Total Hip Arthroplasty A Randomized Controlled Trial. Journal of Bone and Joint Surgery – American Volume, 94A (12), 1095- 1102.
Wainwright, T. and Middleton, R., (2010) An orthopaedic enhanced recovery pathway. Current Anaesthesia and Critical Care, 21 (3), 114-120.
ORI was established at BU thanks to generous funding from the Dorset Local Enterprise Partnership (LEP).