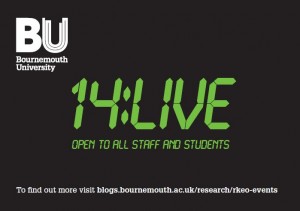 Come along on Tuesday 21 March at 2-3pm on Floor 5, Student Centre on Talbot Campus for the March edition of 14:Live.
Spring is fast approaching and festival season is just around the corner. Over the next few months you will be subjected to intense marketing campaigns from festival promoters, such as Glastonbury, Reading and Leeds, who will be telling you not to miss out on this year's music festivals.
Many of your friends will be sharing their excitement about going to these festivals on social media. Social media has heightened the sensation that everyone but us appears to be having fun and many people have become more sensitive to FoMO appeals.
In this 14:Live, Dr Miguel Moital will discuss the psychology of 'Fear of Missing Out'. What emotions come with FoMO? What marketing tricks are used to heighten FoMO? How can these emotions be managed?
With drinks and snacks provided, this will be a session you won't want to miss!
All staff and students are welcome!