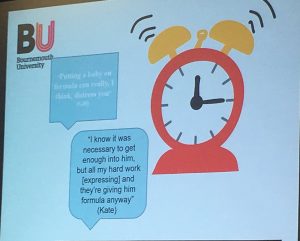 Last week Senior Midwifery lecturer Dr Luisa Cescutti-Butler, member of CMMPH, had the opportunity to attend and present at the prestigious international 3 day conference organised by MAINN @ UCLAN. Nutrition and Nurture in Infancy and Childhood: Bio-Cultural Perspectives. It took place in the beautiful surrounds of Grange-Over-Sands in Cumbria. It was attended by speakers and researchers from India, Australia, Sweden, South Africa, USA, Canada as well as the UK and therefore an ideal networking opportunity. The title of Luisa's presentation was "Is it 2 breastfeeds and then a bottle, or is it one breastfeed and a bottle? Not sure"?, based on her PhD study, supervised by Professor Ann Hemingway, Dr. Jaqui Hewitt-Taylor. The paper reported on women's experiences of feeding their late preterm baby/babies (LPBs), born between 340/7 and 36 6/7 weeks gestation, especially pertinent as the rates for these births is rising. A feminist approach to the study had been utilised using in depth two phase qualitative interviews.
Luisa says of the conference: ' I got to meet researchers that I have used widely within my PhD such as Renee Flacking from Sweden who has undertaken research around preterm babies, Virginia Schmied internationally renowned midwifery professor and Professor Paula Meier who has extensively researched late preterm babies and breastfeeding. She came and listened to my presentation and enjoyed it. Thought my findings were very interesting but was a little dismayed that practice had not moved forward. It was also a good opportunity to meet up with twitter buddies such as Laura Godfrey-Isaacs @godfrey_issacs, who took the photos!'
Luisa may be contacted further about her study but the findings indicate that women caring for LPBs frequently encountered contradictory advice regarding infant feeding and often felt their own experiences, intuition and instincts were devalued. The research concludes that the practice of feeding of LPBs should be revisited in partnership with women, so their experiences and perspectives can be utilised to develop satisfying nurturing relationships whilst also meeting nutritional requirements and that breastfeeding is a feminist, human rights issue. The full abstract is published in the conference proceedings.