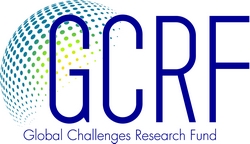 The second GCRF Research Councils UK Collective Fund call "Growing Research Capability grants" worth £225m is due to come out soon. Keep an eye out and watch this space for more information.
The BEIS Global challenges Research Fund Strategy is now live on GOV.UK website. For the full strategy see here.
The Global Challenges Research Fund has a couple of calls open now. In each case, please refer to the call website for full details including eligibility requirements and thematic priorities:
Interdisciplinary Research Hubs to Address Intractable Challenges Faced by Developing Countries
This RCUK call invites proposals from UK research organisations to establish challenge-led and impact-focused GCRF Interdisciplinary Research Hubs. Between £8M – £20M (full economic cost) will be available for each Hub, provided over a 5 year period starting on 1st December 2018. RCUK are looking to award 12-15 Hubs.
Each Hub is required to demonstrate:
Challenge and impact focus – address a specific currently intractable development challenge(s) with realistic pathways with the potential to deliver a broad range of  measurable impacts, and a clear plan for sustaining and further developing the work undertaken during the lifetime of the Hub.
Interdisciplinary research excellence – anchored by well-integrated interdisciplinary approach which demonstrates both underpinning research excellence and the ability to think across, between and within the Sustainable Development Goals (SDGs), and that adds significant value to existing global research efforts.
Global partnerships – a commitment to capacity building and a programme of research and supporting activities which is co-developed with international partners, through genuine and equitable partnerships with researchers and relevant development agencies; third sector and Civil Society Organisations; industry and other private sector organisations; policy makers.
Organisation and leadership – strong research and operational leadership which incorporates robust financial and risk management, assurance, governance and effective monitoring and evaluation, and facilitates the ability to learn and adapt over the lifetime of the Hub.
If interested an Intention to Submit survey must be completed by 29th September 2017. Outline proposals must be submitted by 16:00 on 9th November 2017.  For more information see here.
Resilient and sustainable energy networks for developing countries
This call aims to support an internationally leading programme of research, centred on energy networks, to tackle the challenges faced by developing countries.  Proposals to this call must focus on energy distribution in off-grid locations or locations with sporadic grid connection. A particular emphasis should be placed on energy distribution which is maintainable, has good longevity, has low cost and addresses a range of energy uses beyond home lighting. EPSRC invite attention to the robustness of a local grid or micro-grid to natural hazards, with an emphasis on the vulnerability of physical assets.  Projects which aim to tackle the energy distribution issues faced by low-income countries are particularly welcome. Please be aware that proposals primarily focused on advancing renewable energy sources, including solar energy, will not be considered through this call. £7.5 million is available from the EPSRC for this call to fund 6-8 projects up to 36 months in duration. Deadline for submission of an expression of interest is 16:00 on 17 August 2017, the call for full proposals closes 16:00 on 21st September 2017. For more information see here.
If you are planning to apply to any of these schemes, please contact your Research Facilitator for help and support.