Through BU's subscription to UKRO, we have been advised of the following news items, which represent a 'mere taster' of all the updates provided by UKRO to their members.
To make full use of BU's subscription to this service, why not register now?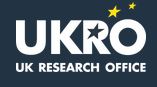 Events and Funding Opportunities:
Funding Development and Support:
Presentations Available from Infoday  on Preparatory Action in Defence Research. The European Commission (DG GROW) and the European Defence Agency (EDA)  ran an Infoday and Brokerage event to inform interested parties on the Preparatory Action on Defence Research (PADR) and the details of the calls for proposals published on 7 June.
Please note: You will need to sign in or register, as a BU staff member, to access many of these items, as part of BU's UKRO subscription. Links have only been given to resources in the public domain.
If considering applying to EU calls, please contact Emily Cieciura, RKEO's Research Facilitator: EU & International, to access further support.