Through BU's subscription to UKRO, we have been advised of the following news items, which represent a 'mere taster' of all the updates provided by UKRO to their members.
To make full use of BU's subscription to this service, why not register now?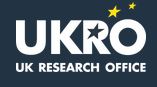 Events and Funding Opportunities:
UKRO ERC Synergy Grant Information and Proposal Writing Events. In its capacity as UK National Contact Point for the European Research Council, the UK Research Office, in partnership with University College London (UCL), is holding an event for researchers who are interested in applying for the 2018 ERC Synergy Grant call, at UCL in London on Wednesday 20 September 2017. For more information and to register a place see the Event on UKROs website.

Information Days on 2018-2020 Horizon 2020 Calls for Proposals

. The following information days are taking place in Brussels for the last H2020 work programme. For more information and to register follow the links below.
Societal Challenge 2 – UK Information & Brokerage Event on the 2018-20 Work Programme. Innovate UK and the Knowledge Transfer Network are hosting a Horizon 2020 Societal Challenge 2 (Food security, sustainable agriculture and forestry, marine, maritime and inland water research and the bioeconomy) event which is aimed at supporting collaboration across the UK and Europe. The event will be used to promote relevant funding opportunities available under Horizon 2020.
Call for Tenders: Study on the IP Implications of the Development of Industrial 3D Printing. The European Commission Directorate-General for Internal Market, Industry, Entrepreneurship and SMEs has launched a call to analyse and clarify how the existing IP framework concretely brings protection to IP rights holders, and to identify possible gaps and opportunities, or need for clarification.

Horizon 2020 SC6 Consortium Building Workshop in Brussels

. Several Brussels-based RTD liaison offices from EU Member States and H2020 Associated Countries will jointly organise a one-day Consortium Building Workshop around selected topics of the upcoming Work Programme 2018-2020 of the Horizon 2020 Societal Challenge 6 (Europe in a changing world – Inclusive, innovative and reflexive societies). The draft agenda is available on the registration page.
Please note: You will need to sign in or register, as a BU staff member, to access many of these items, as part of BU's UKRO subscription. Links have only been given to resources in the public domain.
If considering applying to EU calls, please contact Emily Cieciura, RKEO's Research Facilitator: EU & International, to access further support.