Café scientific was one of the best public engagement activities that I have done in the past years, and I do recommend going there and deliver your talk to the public.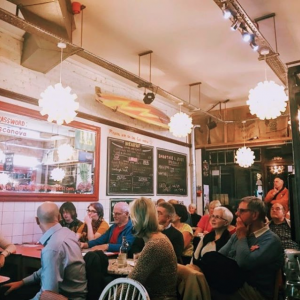 In all my past experiences (including pint of science, the festival of learning, U3A, the Air Show and others) I have always met great people who were interested to know and learn more about what we are doing here at BU, and at Café Scientific, it was no different.
I arrived there 1h before the talk, the café (vintage/steampunk style), was already set up for the event, thanks to the great work of the Public Engagement Team. So I had all the time to calm down and get ready.
At about 19:30 the place was packed, and few people had to listen to the talk standing up.
A sample of the presentation is available on Youtube:
Even if the room was fully booked, the audience was very quiet and focused on listening to the 40 minutes presentation.
However, the best part was at the end, and I am not referring to the delicious brownie cake that Boscanova Café made for celebrating the 5th birthday of Café Scientific, but for the questions.
I was happily surprised to have so many interesting questions, which made me think again about my projects.
There were questions about: the effect of singing and yoga exercises on balance; why not make a POWERbreathe that instead of a mouthpiece has a nosepiece; how much the improvement in balance was due to the strength of the muscles trained and not just the ability to breathe deeper; why not test the effects of meditation, and others very intelligent questions.
Finally, it was challenging and I hope that all the audience received the right message: research can be fascinating and fun, especially if you can share it with others.
If you are interested in know more about how to breathe your way into balance, contact me at fferraro@bournemouth.ac.uk
Thank you for reading.
Francesco.