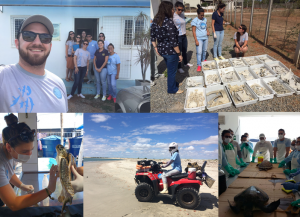 Photo credit: Katie Thompson
For my MSc Biodiversity Conservation placement in 2016, I studied marine mammals in Brazil and terrestrial mammals in South Africa. The placement in Brazil was introduced to me by Dr Luciana S. Esteves (Global Engachement Leader at the Department of Life and Environmental Sciences), who liaised with the project managers at "Cetáceos da Costa Branca" of the Universidade do Estado do Rio Grande do Norte (PCCB/UERN) to make this experience possible.
The placement involved daily monitoring marine wildlife, recording sightings of endangered marine species, rescuing stranded organisms, and carrying out necropsies with veterinarians.  I participated with the disclosure of semi-annual results of data recordings to coastal communities, which involved me visiting various projects within the region to raise awareness of the conservation efforts that are ongoing within the area.
I presented my work from the masters course to researchers who then requested my designs for publication in a field guide, to aid with identification methods. These illustrations are currently being showcased with marketing materials at academic events within the local community.
For any further information please contact Katie Thompson on thompsonk@bournemouth.ac.uk or Genoveva Esteban gesteban@bournemouth.ac.uk.