The past Saturday I was given the opportunity to present my pilot study titled "The influence of inspiratory muscle training on balance and functional mobility in healthy older adults" at the Young Life Scientists Symposium (YLS) held in Derby (see related poster).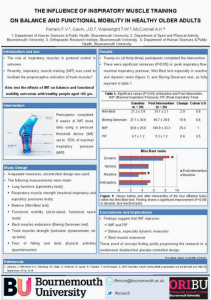 Purpose of the pilot was to gain an understanding of the effect of 8 weeks inspiratory muscle training upon balance and functional mobility outcomes (including Five-Sit-To-Stand, Time Up and Go, Mini-Best test and others) in older adults (65 and over). The results have led to a double-blind random control trial which will be completed by the beginning of 2018.
The YLS is organised by PhD students and Post-Doc's for other PhD students and early career researchers it aims to give the opportunity to network and discuss research matters via poster and oral communication in a positive and constructive environment.
This year symposium was focusing on three major sections: nutrition, exercises for ageing and metabolic disease in ageing. Speakers from all the UK discussed their works, and I had the chance to collect feedbacks explaining my methods and methodology.
I would like to thank Bournemouth University and my supervisors who helped me to achieve this opportunity.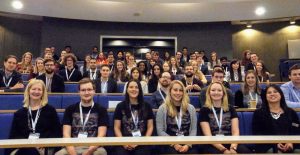 Thank you for reading.
Francesco.