Prof Janet Dickinson, Associate Prof Jayne Caudwell, and Dr Jaeyeon Choe (Centre for Events, Leisure, Society and Culture) have established a network called 'The Refugee & Migrant Leisure Network (RMLN)'. They had the most recent meeting with partners on the 8th of December at Bournemouth University.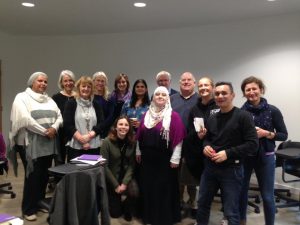 During the meeting, stakeholders from Dorset Race Equality Council, Unity in Vision, International Care Network, Red Cross and STAR joined academics to discuss current projects and issues. BU academics updated the network on current research related to multicultural lunches in Dorset, work with forced migrants in Bristol and future plans. Stakeholders suggested future research agendas, which focused on best practice for looking after unaccompanied asylum seeker children and supporting people into appropriate work aligned to existing skills.
The network has been providing a great opportunity to (re)build partnerships and update each other of current events, issues and programmes around refugee and migrant leisure spaces, migration, integration, wellbeing and mental health whilst working towards creating social integration and sense of belonging and community. The next meeting will be in Spring 2018.
More information about this group and related research project: https://research.bournemouth.ac.uk/2018/01/refugee-and-migrant-leisure-network-meeting-8th-december/
Follow us on Facebook: 'Refugee and Migrant Leisure Network (RMLN)'
https://www.facebook.com/groups/400355213641367/?ref=bookmarks