The 'Migrant & Refugee Leisure Spaces and Community Well-being' research project is focused on building research capacity to respond to social and cultural shifts in Dorset following Brexit with regard to migrant and refugee wellbeing. – See more at: http://blogs.bournemouth.ac.uk/research/2017/01/27/we-love-eu-migrant-refugee-leisure-spaces-and-community-well-being-project/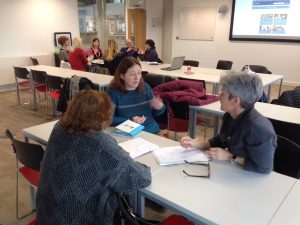 The project brings together academics and community partners, including b-side Arts Organisation, Poole Museum, Dorset Race Equality Council, Bournemouth & Poole City of Sanctuary and Bournemouth University STAR (Student Action for Refugees). In particular, we are interested in past and present migration flows and the inclusion of displaced peoples in Dorset, and we are keen to explore and document the positive ways individuals and groups make connections through leisure, including sport, art, heritage and culture.
One of the projects related to this research is this socially-engaged art work entitled: Shahre Farang by Farhad Berahman produced by b-side. Farhad and his art work will appear at Bournemouth University Festival of Learning in July as well as Refugee Week (June 19th – 25th) events and b-side Outpost Art Festival.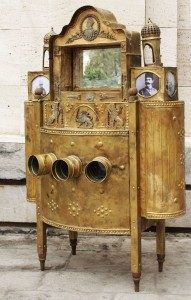 "If you could never return home, what would you do and where would you go if you were granted just one minute to be there?"
Iranian photographer Farhad Berahman presents the memories of 20 Iranian asylum seekers who are unable to return home. Look into the beautiful Shahre Farang (an Iranian peepbox used by wandering storytellers) and see their memories made real, meet the artist and join in with discussion and activities.
The Shahre Farang piece is touring Dorset visiting Bridgeport and Dorchester markets, Portland, Poole and Bournemouth University Festival of Learning:
Outpost, Portland 17 – 22 June
Poole Museum 24 June
Dorchester Market 28 June
Bridport Market 01 July
Bournemouth University 08 July
While we are very excited for the upcoming socially engaged art events, we are currently discussing how we can encourage members of Dorset refugee or migrant communities to attend the Festival of Learning at Bournemouth University. We are working with members of the newly formed network of community partners to extend invites to as many groups as possible.
Later this year, core academic members will attend the Leisure Studies Association (LSA) annual conference (July) and the Royal Geographical Society (RGS) annual conference (August/September) to present work and chair sessions. The details are as follows:
Associate Prof. Jayne Caudwell and Dr. Katherine King are presenting in the 'Leisure and Social Justice' session at the LSA International Conference in Leeds. They will reflect on the development of the co-created, socially engaged arts event. In framing their critical reflection, they discuss the role of leisure spaces and practices in building connections between previously disconnected groups of people living in Dorset.
Dr. Jaeyeon Choe and Prof. Janet Dickinson are session organisers for 'Migrant Leisure Spaces and Community Wellbeing' at RGS-IBS International Conference in London. The session includes a number of diverse papers from the UK, Mexico, Canada and Australia addressing key issues surrounding migration, leisure and space. http://blogs.bournemouth.ac.uk/research/2016/12/22/cfp-rgs-ibg-annual-conference-2017-migrant-leisure-spaces-and-community-wellbeing/
If you are interested in our project, please follow us:
Project web-page: https://research.bournemouth.ac.uk/project/migrant-refugee-leisure-wellbeing/
Facebook: Migrant Leisure Spaces
Twitter: @migrantspaces