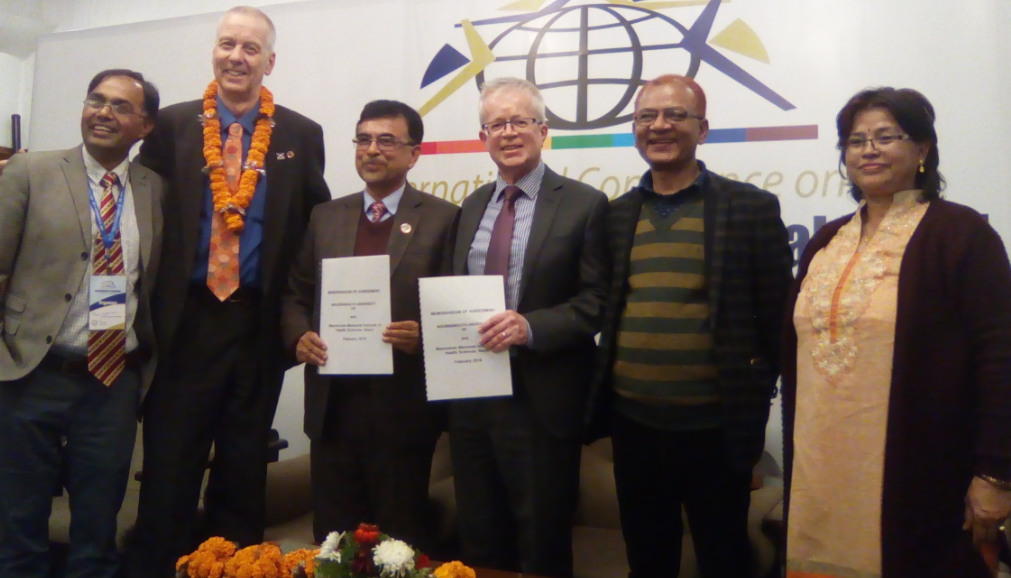 As part of the new plan BU2025, "we want to continue to develop our global partnerships and links with other institutions and organisations".  This is an admirable aim, and it is, of course, the best way forward for a truly global Higher Education Institution like Bournemouth University (BU).  But to translate this general aim into a particular global partnership we need to consider the underlying processes of initiating and developing such partnerships.  We published a paper [1] on the issues one needs to consider in developing a partnership, based on the example of BU's partnership with Manmohan Memorial Institute of Health Sciences (MMIHS) in Nepal.
In late February this year MMIHS signed a Memorandum of Agreement (MoA) with BU at a ceremony in the Nepalese capital Kathmandu, where Prof. Stephen Tee represented BU. This MOA is an agreement between us that provides a basis on which the parties will consider potential future collaboration.   The UoA formalises a long-standing collaboration between the two institutions, and indicates a desire to collaborate further in the future.  MMIHS and BU academics have jointly applied for research grants, conducted collaborative research and published together and it is exactly this personal link between people that allows this, and many other, global partnerships to flourish.
Prof. Edwin van Teijlingen
Centre for Midwifery, Maternal & Perinatal Health
Reference:
van Teijlingen, E., Marahatta, S.B., Simkhada, P., McIver, M., Sharma, J.P. (2017) Developing an international higher education partnerships between high & low-income countries: two case studies J Manmohan Memorial Inst Health Sci, 3(1): 94-100.