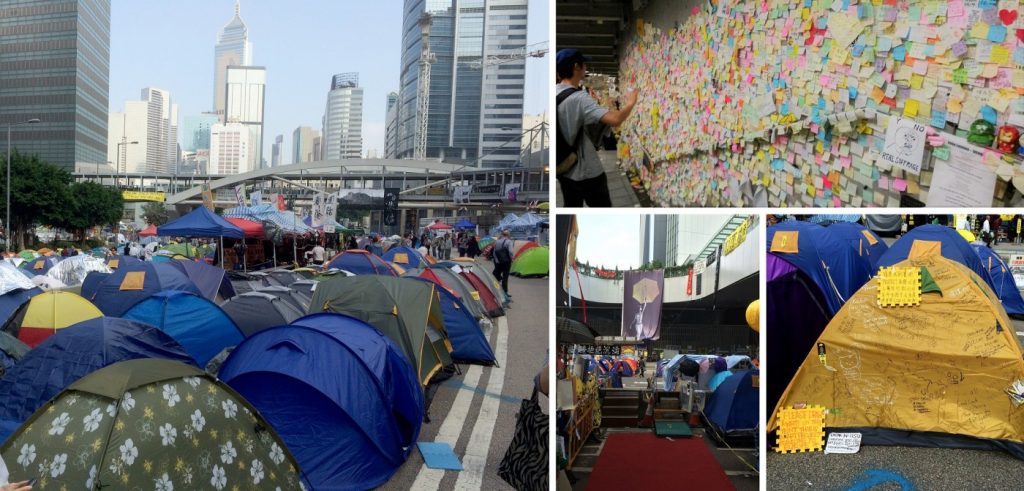 Protest Art for Social Change
This week's photo of the week was taken by Dr Anastasia Veneti and shows how protests and social movements can transform spaces into a form of art.  Our Photo of the Week series features photo entries from our annual Research Photography Competition taken by BU academics, students and professional staff, which gives a glimpse into some of the fantastic research undertaken across the BU community.
From the squares of Athens and Istanbul to the streets of New York and Cairo, social movements have been rising during the 21st century. Contrary to public perceptions of urban protest camps as arenas of violence and confrontation, this research at the 2014 Hong Kong Umbrella Movement indicated that protest camps can transform the city into an open space of massive arts participation. Thousands of protesters, citizens and tourists participated in collaborative arts projects that communicated universal values related to freedom, equality and democracy. The research team suggest that, in an increasingly turbulent world, peaceful and collective protest art has the capacity to empower, unify and motivate people.
—
Dr Anastasia Veneti is a Senior Lecturer in Marketing Communications at Bournemouth University. For more information about this research, please contact Anastasia here.
Researchers involved: Dr Georgios Patsiaouras (School of Business, University of Leicester), Dr Anastasia Veneti (Faculty of Media and Communication, Bournemouth University), Dr William Green (School of Business, University of Leicester).
The research project was recently published online at the prestigious journal, "Marketing Theory" in August 2017:
Patsiaouras, G., Veneti, A., and Green, W., (2017) Marketing, art and voices of dissent: promotional methods of protest art by the 2014 Hong Kong's Umbrella Movement. Marketing Theory. Online first: http://journals.sagepub.com/doi/abs/10.1177/1470593117724609