Dr Jaeyeon Choe in Faculty of Management successfully co-organised and co-chaired the Nexus of Migration and Tourism: Creating Social Sustainability Symposium, with Vietnam National University, University of Social Sciences and Humanities in Hanoi, 20-21 September 2018.
During the symposium, very diverse and international papers from over 15 countries and various disciplines including tourism studies, hospitality management, cultural anthropology, human geography, sociology and marketing were presented. The presentations were followed by interesting questions and discussion.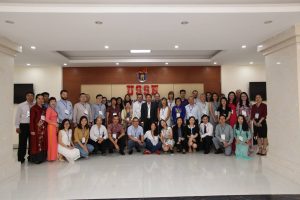 We had the honour of having four world renowned keynote speakers present:
Prof Michael Hitchcock, Goldsmiths, University of London
'A tale of two cities: Tourism and social sustainability in Hong Long and Macau'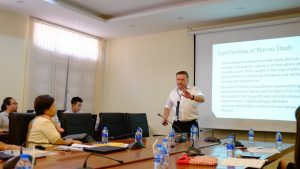 Prof Alan Lew, Northern Arizona University, USA
'Diaspora Migration and Social Sustainability: A Tourism and Resilience Perspective'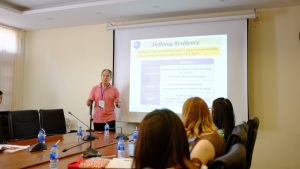 Prof Sabine Marschall, University of KwaZulu-Natal, South Africa'
'But Is It Tourism?' Social Sustainability and the Blurred Boundaries between Travel, Tourism and Migration'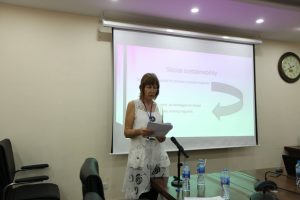 Prof Noel Salazar, KU Leuven, Belgium
'Migration and Tourism Mobilities: Time to Bring Sustainability into the Debate'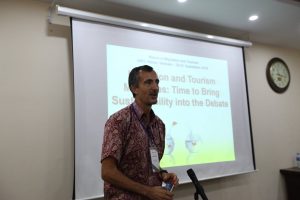 The keynote speakers provided inspiring talks and provoked discussion whilst suggesting future directions for research on migration, tourism and social sustainability. Whilst chairing sessions, they mentored junior researchers and local Vietnamese scholars, which was both kind and helpful.
Despite rapid tourism economic development, and research into labour and employment, research hasn't caught up to the rapidly changing issues, such as tourism linked migration, precarity of employment and social and cultural aspects of sustainability. Thus, we discussed, reflected and developed upon issues pertaining to sustainability and the nexus of migration and tourism. We were particularly interested in the complexities of trends, issues, challenges and opportunities around migration linked tourism, which remains a relatively minor part in the field of tourism.
As a follow up step, Dr Choe is organising 'Migration and Tourism: Creating Social Sustainability' special issue in the Tourism Geographies Journal (http://www.tgjournal.com/). This call is with the support of the editor in chief and one of the keynote speakers, Prof Alan Lew. The Tourism Geographies Journal is one of the top journals in both tourism studies and geography, with a high impact factor. We expect to have quality articles in this issue directly from the symposium presenters and beyond.
It was also great to see local Vietnamese scholars present their work. The international participants learned a lot about opportunities, challenges and issues in Vietnam tourism. Supporting the local Vietnamese scholars work to be published in an international journal, Dr Choe is organising another special issue, 'Tourism and Sustainable Development in Asia' in the Journal e-Review of Tourism Research. Growing quickly with the new editor-in-chief, Dr Cody Paris, this journal is open access, and the editorial board are very supportive of early career researchers, graduate students, and international scholars. We are very happy to encourage local scholars, who, with English as a 2nd or 3rd language, often find obstacles publishing.
The symposium also offered a formal yet interactive and fun networking workshop to discuss how to build educational links, work on grant projects or publications across disciplines, institutes and continents.
The local host, Dr Long, Dr Dung and Dr Nhat and other academic staff and students at Vietnam National University, University of Social Sciences and Humanities all worked very well together, and they showed exceptional Vietnamese hospitality throughout. This has been an excellent international collaboration project, and we look forward to collaborating again in the near future.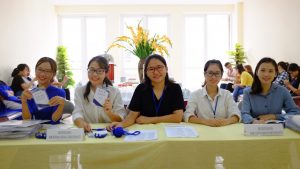 [VNU University of Social Sciences and Humanities Event Management students did a wonderful job assisting the sympousium. Well done!]