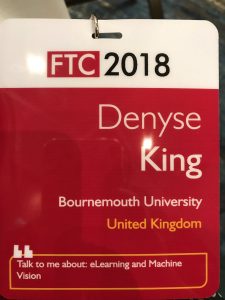 Congratulations to Denyse King, who is currently attending the Future Technologies Conference, FTC 2018; Vancouver, BC; Canada (15-16 November).  Her conference paper 'NoObesity apps – From approach to finished app' has been published in Advances in Intelligent Systems and Computing [1].  Denyse is part of the Centre for Midwifery, Maternal & Perinatal Health (CMMHP) where she is a Lecturer (Academic) in Midwifery based at BU's campus in Portsmouth ,
Obesity is still a growing public health problem in the UK and many healthcare workers find it challenging to have a discussion with service users about this sensitive topic. They also feel they are not competent to provide the relevant heath advice and are seeking easily accessible, evidence-based, mobile health learning (mHealth). mHealth applications (apps) such as the Professional NoObesity and Family NoObesity (due for release late 2018), have been designed to: support families with making sustainable positive behaviour changes to their health and well-being, ease pressure on practitioners' overweight and obesity care related workloads, as well as to support the education of professionals, students and service users. This paper describes the process of designing the apps from the inception of the idea, through the stages of research, app builds and testing. The processes of collaborative working to design and develop the apps to meet the needs of both service users and health professionals will also be reflected upon. Childhood obesity is an complex problem and whilst it is recognised that the NoObesity apps cannot singlehandedly resolve this health crisis, it is proposed that they can support families to identify and reduce the barriers that prevent them from living healthier, happier lives. 
Reference:
King D., Rahman E., Potter A., van Teijlingen E. (2019) NoObesity Apps – From Approach to Finished App. In: Arai K., Bhatia R., Kapoor S. (eds) Proceedings of the Future Technologies Conference (FTC) 2018. FTC 2018. Advances in Intelligent Systems and Computing, vol 881. Springer, Cham, pp. 1145-1157.