Prof. Bhimsen Devkota will be presenting our paper 'Challenges and Dilemmas in Conducting Conflict Research During Armed Violence: Lessons Learnt from Fieldwork in Nepal' at a conference tomorrow.  The two-day Nepal Research Conference on Peace, Justice and Inclusive Society will be held in Lalitpur, Nepal.  Bhimsen was my PhD student at the University of Aberdeen and he is now based at the leading government university in Nepal, Tribhuvan University. He studied the role and motivations of Maoist health workers in Nepal who were part of the insurgency against the government /king (1995-2006).  We published four papers on his exciting fieldwork [1-4].
During the conflict the Maoist recruited their own health workers to treat combatants (Bandage) and to provide limited services to the communities under their control.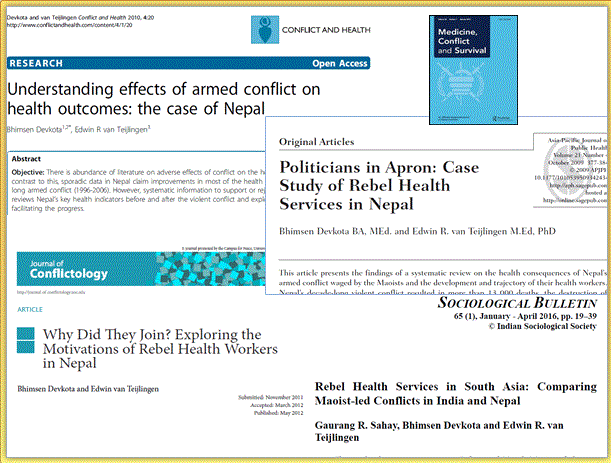 However, there was no systematic information on numbers, their abilities/ skills, experience and career motivations and their integration strategies in the subsequent peace process.  During his fieldwork in rebel controlled areas Bhimsen had to use all his social and emotional skills to get the research done.  He is the only PhD student I have ever supervised who was put a gun to his head during his fieldwork.  Our paper is highlighting some of these real-life research issues, including gaining trust and having an identity acceptable to the research participants.
Prof. Edwin van Teijlingen
CMMPH (Centre for Midwifery, Maternity & Perinatal Health)
References:
Devkota, B., van Teijlingen E. (2009) Politicians in Apron: Case study of Rebel Health Services in Nepal, Asia-Pacific J Publ Health 21: 377-384.
Devkota B, van Teijlingen E. (2010) Demystifying the Maoist Barefoot Doctors of Nepal, Med Conflict Survival 26: 108-123.
Devkota B, van Teijlingen E. (2010) Understanding effects of armed conflict on health outcomes: the case of Nepal. Conflict & Health 4 (20) www.conflictandhealth.com/content/4/1/20
Sahay, G., Devkota, B., van Teijlingen, ER. (2016) Rebel Health Services in South Asia: Comparing Maoist-led Conflicts in India & Nepal, Sociol Bull 65(1):19-39.