On February 24, 2022 when Russia invaded Ukraine, the "What can we do?" question was obsessively emerging in our private talks, in our professional conversations, in social media interactions. Russia's invasion was literally hitting very close to home for Dr. Alina Dolea, as an Eastern European scholar with personal experiences of life under Soviet domination and of the dissolution of the Eastern Bloc in the early 1990s, as well as parents and family living in North Romania, close to the border with Ukraine and the Republic of Moldova.
She initiated conversations with colleagues in the field which resulted in an academic Forum co-edited with Nadia Kaneva (University of Denver, US) and Ilan Manor (Ben Gurion University of the Negev, Israel) for Place Branding & Public Diplomacy. The Forum Public diplomacy and nation branding in the wake of the Russia–Ukraine War | SpringerLink aims to identify academic concepts, theories, and assumptions from the field which have been cast in doubt—or need to be re-examined—in light of the Russia-Ukraine war. In order to encourage continued engagement, each of the eleven essays in the Forum, as well as the editorial Introduction, conclude with a section that outlines specific gaps in public diplomacy scholarship and directions for future research.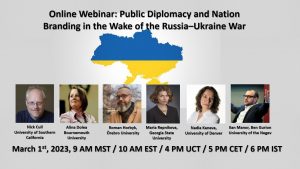 To mark the publication of the Forum, the co-editors are organizing a webinar on March 1, starting with 4pm.  Together with Nadia Kaneva, Nicholas Cull, Maria Repnikova, Roman Horbyk, Ilan Manor (PhD), Alina will reflect on nations' reputational security, the need to reconceptualize soft power, the use of transmedia storytelling and memes in war, the consequences of displacement for Ukrainian refugees and the relevance of emotions and trauma in diaspora and public diplomacy.
Please join the webinar and RSVP here: Public Diplomacy & Nation Branding in the Wake of the Russia-Ukraine War Tickets, Wed, Mar 1, 2023 at 4:00 PM | Eventbrite