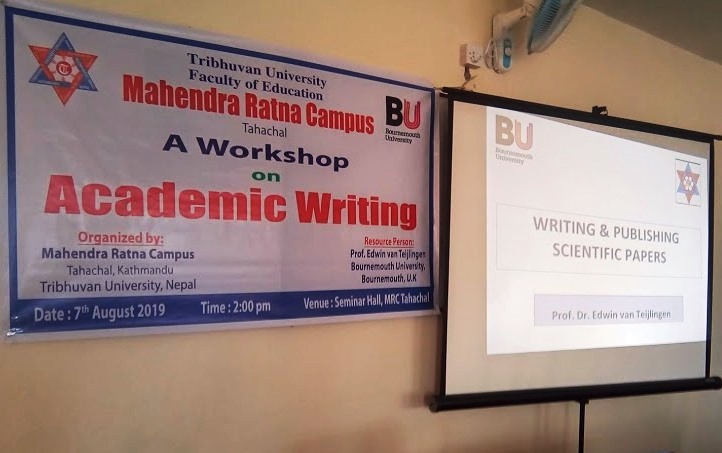 This past week Prof. Edwin van Teijlingen from the Centre for Midwifery, Maternal & Perinatal Health (CMMPH) presented several workshops on academic writing and scientific publishing to BU's partners in Nepal.  He presented at Nepal's oldest and largest university Tribhuvan University (TU) on Wednesday. The Faculty of Education had made the effort to produce a personalised banner for Edwin. Prof. Bhimsen Devkota, who invited him to run this workshop, was his PhD student many years ago at the University of Aberdeen
The next day he visited Manmohan Memorial Institute of Health Sciences (MMIH
S) which has a Memorandum of Agreement with BU, which was signed by Prof. Tee in early 2018 (see BU Research Blog).  At MMIHS the audience that day consisted mostly of Master of Public Health students. Edwin recently celebrated his ten-years of being Visiting Professor at MMIHS.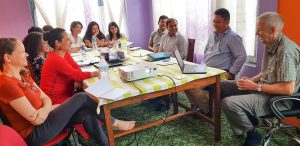 Yesterday he had the honour of running a workshop at BNMT (Birat Nepal Medical Trust), affiliated with the Britain Nepal Medical Trust which started working in Nepal more than fifty years ago in 1967. The audience at BNMT was smaller and this allowed for loads of fruitful discussions.
These workshops are part of BU capacity building approach for health workers, development workers, health students and researchers in Nepal.  Writing with colleagues in the Faculty of Health & Social Sciences, and various UK universities, including with Visiting Faculty based at Liverpool John Moores University (LJMU) and University of Exeter Medical School (UEMS) as well as Visiting Faculty at NHS Poole Foundation Hospital and Hamad General Hospital (Qatar) the BU team as published 12 papers on aspects of academic writing and/or publishing [1-12].
References
van Teijlingen, E, Hundley, V. (2002) Getting your paper to the right journal: a case study of an academic paper, J Advanced Nurs 37(6): 506-11.
Pitchforth, E, Porter M, Teijlingen van E, Keenan Forrest, K. (2005) Writing up & presenting qualitative research in family planning & reproductive health care, J Fam Plann Reprod Health Care 31(2): 132-135.
van Teijlingen, E, Simkhada, PP, Rizyal A (2012) Submitting a paper to an academic peer-reviewed journal, where to start? (Guest Editorial) Health Renaissance 10(1): 1-4.
van Teijlingen, E, Simkhada. PP, Simkhada, B, Ireland J. (2012) The long & winding road to publication, Nepal J Epidemiol 2(4): 213-215 http://nepjol.info/index.php/NJE/article/view/7093/6388
Hundley, V, van Teijlingen, E, Simkhada, P (2013) Academic authorship: who, why and in what order? Health Renaissance 11(2):98-101 www.healthrenaissance.org.np/uploads/Download/vol-11-2/Page_99_101_Editorial.pdf
Simkhada, P., van Teijlingen E., Hundley, V., Simkhada, BD. (2013) Writing an Abstract for a Scientific Conference, Kathmandu Univ Med J 11(3): 262-65. http://www.kumj.com.np/issue/43/262-265.pdf
Simkhada P, van Teijlingen E, Hundley V. (2013) Writing an academic paper for publication, Health Renaissance 11(1):1-5. www.healthrenaissance.org.np/uploads/Pp_1_5_Guest_Editorial.pdf
van Teijlingen, E., Ireland, J., Hundley, V., Simkhada, P., Sathian, B. (2014) Finding the right title for your article: Advice for academic authors, Nepal J Epidemiol 4(1): 344-347.
van Teijlingen E., Hundley, V., Bick, D. (2014) Who should be an author on your academic paper? Midwifery 30: 385-386.
Hall, J., Hundley, V., van Teijlingen, E. (2015) The journal editor: friend or foe? Women & Birth 28(2): e26-e29.
Sathian, B., Simkhada, P., van Teijlingen, E., Roy, B, Banerjee, I. (2016) Grant writing for innovative medical research: Time to rethink. Med Sci 4(3):332-33.
Pradhan, AK, van Teijlingen, ER. (2017) Predatory publishing: a great concern for authors, Med Sci 5(4): 43.