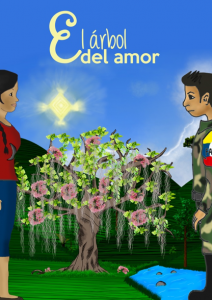 Their voices. Their stories. Their animation!
This was the mantra for a peace and reconciliation project, funded by the Global Challenges Research Fund, which CEMP's Dr Karen Fowler-Watt (FMC) has just spent a week in Bogota disseminating to politicians, journalists, academics and NGOs.  There she joined former BU academic and journalist Dr Mathew Charles, now based in Colombia, who directed the project's key output: an animated film made by young people from the indigenous Nasa community of Jambalo in the Cauca region who were caught up in the violence of Colombia's 55-year civil conflict. The film was created in a series of workshops in their community – described in more detail below – and then, once complete, in mid-September they travelled to Bogota to screen their work and to share their stories of lived experience. It was an incredibly humbling and poignant experience, particularly as Colombia's peace is once again fragile.
The most important – and potentially impactful – visit was to the Colombian government's Truth Commission, where we screened the film and the young film makers talked about their experiences of conflict – some as ex-combatants. We also visited a children's refuge where they shared their stories with a group of children and young people who have all been caught up in the violence, many are orphans. Screenings at Los Andes University, with a discussion about whether the combination of traditional forms of storytelling and new technologies constitutes a 'new journalism' followed, with the premiere in a cool indie cinema in Bogota, attended by the Senator for indigenous people, Feliciano Valencia.  We also hosted intergenerational workshops. where we explored routes to peace and reconciliation, using the film as a starting point for the discussion. Mathew Charles wrote this description of the production process for Changing the Story: https://changingthestory.leeds.ac.uk where he also elaborates on the impact of the project The Tree of Love. Resilience, Resistance and Reconciliation Among Former Child Soldiers in Colombia.
"Maybe you won't know, but I'm going to tell you the truth about what war did to my community," says A'te, a young girl staring into the flames of the Tulpa. The Tulpa is part of an ancient Nasa storytelling tradition, which invites us to share experiences with our friends and neighbours.
A'te is accompanied by her friend, Sek.
"When I was born, war had appeared long before," he says.
"I remember when death entered my home without permission, without even bothering to knock at the door,"A'te continues. "Our loved ones were recruited by armed groups for no reason and for no cause."
This conversation between teenagers Sek and A'te constitutes one of the early scenes of The Tree of Love or El Árbol del Amor, a short film written, illustrated and animated by child survivors of conflict in Colombia. It explores the complex phenomenon of forced recruitment and the life of child soldiers both inside and outside insurgent groups.
Led by a team of researchers and practitioners from Bournemouth University and in partnership with the Norwegian Refugee Council, Fondación Fahrenheit 451 and Tyet, The Tree of Love is a project, which involved a series of three workshops with 25 children and young people between the ages of 9 and 24 (some of whom were ex-combatants) from the indigenous Nasa reservation of Jambaló in Cauca, southwestern Colombia. The project was funded by a grant from the Global Challenges Research Fund.
The project recently featured on the front page of one of Colombia's biggest dailies, El Espectador, which included a podcast dedicated to the film. It has also been accepted by Colombia's Truth Commission as official testimony. The Commission was created as part of the 2016 peace deal with the FARC guerrilla and has a three-year mandate to build a picture of the country's past violence.
The Nasa people have lived with Colombia's bloody conflict for the past 55 years. Hundreds of Nasa youngsters are among the estimated 17,000 Colombian children and teenagers, recruited and utilised by the myriad of armed actors in the country.
In the animation, Sek (which means Sun in Nasa Yuwe, the indigenous language of the Nasa people) and A'te (which means Moon), explain their decision to take up arms and become guerrilla fighters. The pair are fictional characters, but their stories are real, constructed from the testimonies elicited from the former child combatants and young survivors of conflict.
In seeking to access these stories, it was important to avoid the idea of 'giving voice', which despite the nobility of its aim, can perpetuate hierarchies and 'top down' approaches to storytelling.  Vietnamese filmmaker, Trinh Min Ha stresses the imperative of 'speaking nearby' rather than 'speaking about', but our aim was to get even closer and listen from within, not as a member of the community, but as part of it.
We immersed ourselves in Jambaló, sharing the community's customs and traditions.
The decision not to use interviews as a methodological tool was key to this concept and what we might call 'story listening', instead of 'storytelling'. The participants created their own stories through the production of artefacts: drawings, writing stories and poetry, culminating in their own animation.
As academics and filmmakers, we became listeners and facilitators of this shared narrative space, while the workshop participants became the storytellers.
As a result, the film is intended to sow the seeds of social inclusion and reconciliation. We saw how sharing stories can illuminate personal experience and understanding, and can create a sense of community and belonging.
We also discovered how the act of storytelling can convert resilience and the ability to recover from 'difficulty' into personal forms of resistance and 'push-back', in which a refusal to accept or comply with 'difficulty' emerges.
Through this concept of resistance, the structures, which underpin marginalisation and violence are identified and brought into question, but perhaps more importantly, they are also communicated to others in the pursuit of peace and reconciliation and in the hope of inspiring or provoking change.
The programme of three five-day workshops to produce the animation took place between September and December 2018. The first sessions involved autobiographical narrative and storytelling exercises and they introduced the young participants to basic animation using Adobe Photoshop and After Effects. Some of the early work produced can be viewed here.
The second workshop focused on the development of the final script and the completion of a detailed storyboard. The third concentrated on illustration and animation, and also included sound recording and sound design.
Since the workshops, the Nasa community has created its own production company, using the training and equipment provided as part of our project. They are now working with their first clients.
The film is also being used as and advocacy tool by two civil society organisations: Taller de Vida and Creciendo Unidos.
Colombian Senator, Feliciano Valencia, spoke at our recent premiere at Cine Tonalá in the Colombian capital, Bogotá:
"When we talk about conflict, we do it as journalists, academics and lawyers," he said. "But here the young people from Cauca are telling their own story, the way they choose to tell it."
And their message, as articulated by A'te in the final scene of The Tree of Love, is clear: "I wish that through these narratives, children or adults from different places will understand what we live through, and that they won't judge us, and that with this story, those who make war will listen to us," she says.
The first UK preview screening of The Tree of Love will take place at a Journalism Education Research Group symposium organised by Karen Fowler-Watt for BU's Centre of Excellence in Media Practice (CEMP) at the EBC 4-6pm on Thursday October 10th, 2019. This is part of the EdD conference. All are welcome.
Here is a sneak preview of the film
Research team for the GCRF-funded project 'Child Survivors of Colombia's armed conflict: Animation as a vehicle for reconciliation':
Professor Stephen Jukes
Dr Mathew Charles
Dr Karen Fowler-Watt
Dr Paula Callus
Dr Stephanie Schwandner-Sievers