It took more than two years to experience the delayed effects of the promotional work I have done during my trip to India for the Global Festival of Learning, 2017.
I attended the festival in Pune and then did an activity in Delhi. My session involved interviewing a MSc Tourism & Events alumni (Arjun Bahl) who co-founded the St+art India project, the largest street art festival in the country.

When I attended the GFoL, I also did promotional work by visiting a number of study abroad agents in Delhi and Mumbai (Thank you IMSRT!). It was great to interact with those who are selling the university, and realise how much information they have about all the different universities across the world, while at the same time how little specific information they have about specific courses offered by BU, such as the tourism, hospitality, sport and events. I found agents to be very appreciative of the valuable information I gave them, which they thought will help them to do a better job at selling BU and these courses in particular.
I also delivered a guest lecture about events experiences to tourism students at Amity University in Mumbai, whose course was lead by an MSc Tourism Management alumni. Even though I was suffering from severe food poisoning, I made all efforts to fulfill the commitment of going to talk at Amity. Not only I thoroughly enjoyed the experience, but tangible benefits to BU materialised this September.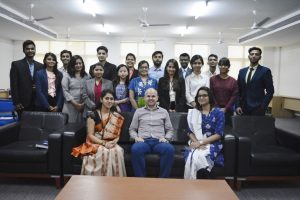 The tourism course had started not long ago and the audience for the guest presentation was small – around 20 students – but extremely interested. One second year student came to talk to me at the end to introduce himself and to show his enthusiasm for the idea of coming BU to do an Events Masters once he graduated. We became friends on Facebook and he contacted me a few times since 2017, asking questions about Bournemouth, BU and the course.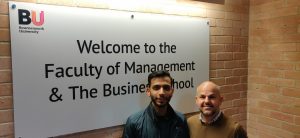 Two and a half years on, not only has Abde Ali joined the MSc Events Management, but he has now been elected course rep and Secretary for Events Society BU. According to Abde, "I kind of knew I wanted to do further studies in a more specific area within tourism, but events never occurred to me before Miguel's presentation. Miguel's presentation not only made me realise that events was what I wanted to study, but also that Bournemouth University was the place to do it".
Abde's example shows two things: 1) the power of guest lectures and personal interaction in persuading students to come to BU, and 2) the delayed effects of promotional work via guest lectures or the GFoL, in this instance more than two years.
I am delighted by Abde's decision to join us, and his example just reinforces my view that while the Internet plays an important role, interpersonal interaction with academics can become a decisive influence on the decision to come to BU. After all, academics have a lot of knowledge about the courses they teach and they can talk about them very passionately. Activities like the GFoL can be an effective way of promoting University internationally, and more so if they are maximised through activities like guest lectures and agent visits.