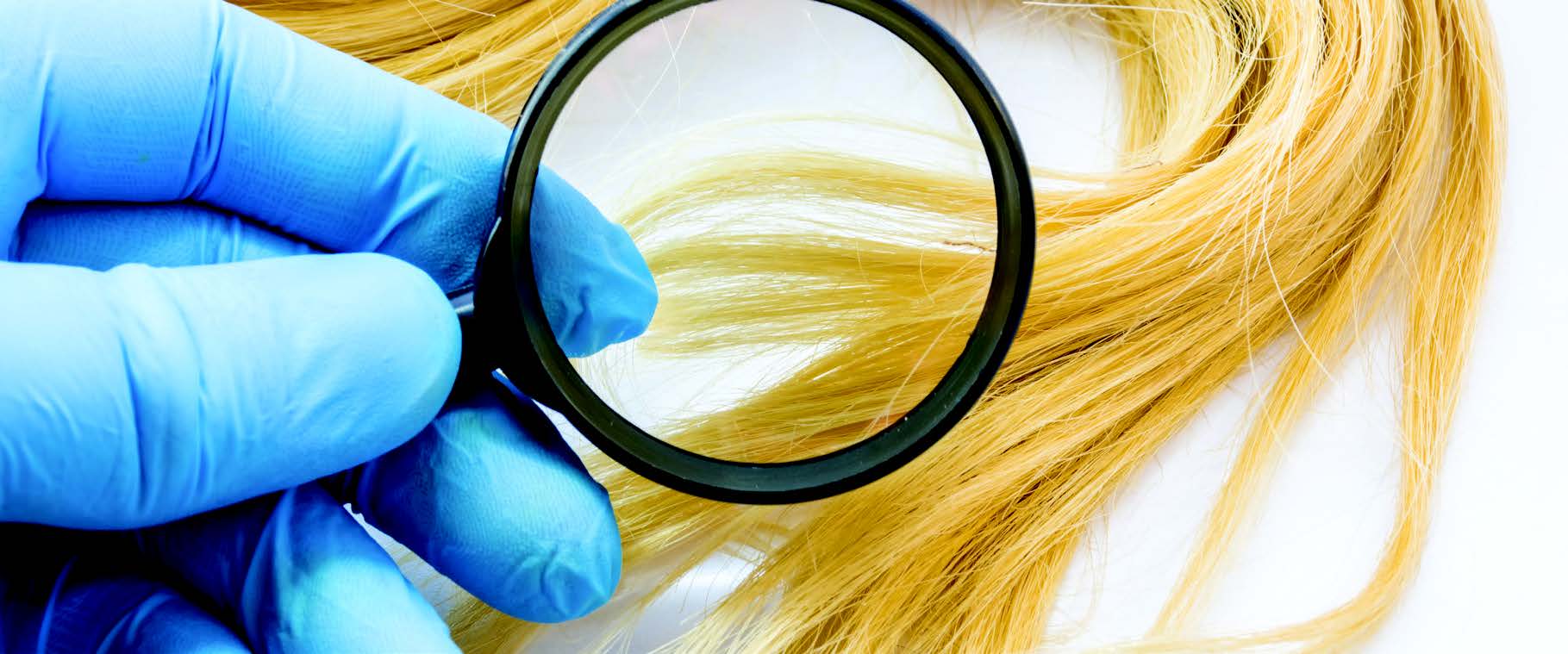 As we go about our daily lives our hair is recording evidence of what we consume and of the environments we are exposed to. It can record how much you drink, whether you smoke or take drugs, or live in an environment where drug abuse is prevalent. Hair testing for drugs and alcohol provides evidence to the police, assists with family law issues, and is utilised in workplace testing and a variety of other settings. The interpretation of analytical data from hair testing is challenging however, and research is continuing to improve the validity of the process.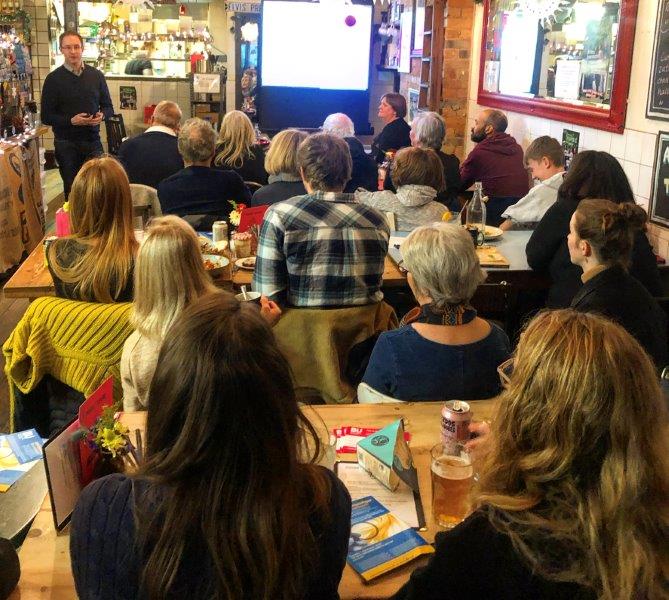 At this month's Café Scientifique, Dr Richard Paul discussed the science behind hair testing for drugs and alcohol, and reviewed some of the applications of the technique. Richard highlighted how hair testing may be used in cases of drug facilitated crime, the use of hair alcohol testing to determine abstinence or chronic excessive consumption, and finally reviewed how hair testing will be utilised in new research to examine second-hand exposure to new psychoactive substances in prisons.
Drug facilitated crime
The term drug facilitated crime refers to when a person is subjected to a criminal act whilst they are under the influence of drugs or alcohol. Unfortunately in many such cases a victim may experience memory loss caused by certain drugs, or be reluctant or unable to report the crime soon after it has taken place. Certain drugs associated with such crimes are often quickly eliminated from our body through natural processes, rendering blood and urine testing obsolete if too much time has passed following the crime. This is where hair testing has a crucial advantage: once drugs enter our hair they can remain bound and stable for very long periods of time. Richard discussed his research developing new techniques for the investigation of drug facilitated crime and examined cases utilising the technique.
How are drugs incorporated in our hair?
Drugs can enter our hair via three mechanisms;
The bloodstream – every hair on our body has a blood supply, and drugs or alcohol (metabolites) circulating in our bloodstream can access our hair via this system. Once in the hair, compounds can bind strongly to melanin and keratin in our hair.
Sweat and sebum – it has been shown that some drug and alcohol metabolites will be excreted via sweat/sebum, and then re-incorporated in hair that is in contact with sweat/sebum.
External contamination – it has been demonstrated that exposure to drugs that are smoked or snorted can lead to passive incorporation of drugs into the hair of non-drug users. We've even shown that some cosmetic hemp-based hair treatments can lead to positive test results for cannabinoids. Laboratories have systems in place to distinguish between drug consumption and passive exposure, but it can be challenging.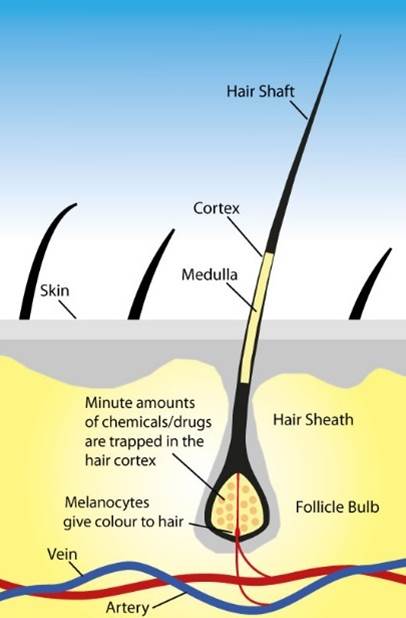 Alcohol testing
Alcohol itself (ethanol) is not tested for in the hair, the compound is too volatile. Instead researchers look for metabolites of ethanol in our system, focusing on ethyl glucuronide, and ethyl palmitate. These are biomarkers of alcohol consumption, and when found in hair samples above a certain concentration, provide good evidence of alcohol consumption. Hair alcohol testing is widely utilised in family law cases, often in child custody disputes. If one parent accuses the other of being an alcoholic, a court may request a hair alcohol test to provide evidence. Our research examines the factors that may influence the incorporation of alcohol biomarkers into the hair, as well investigating fingernails as an alternative testing matrix to hair.
New psychoactive substances in prisons
Richard discussed his latest research project investigating second-hand exposure to new psychoactive substances in prisons.  NPS are new narcotic or psychotropic drugs many of which pose serious health risks. The abuse of such drugs in prisons (including Spice and similar compounds) is a significant problem and one which is experienced to different levels across many European countries.
Richard's team are using a range of analytical techniques to assess the prevalence of NPS abuse in UK prisons and will also be assessing the extent to which prison staff are exposed to secondary drug fumes during their employment.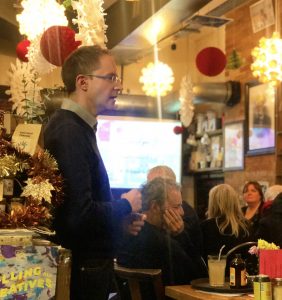 Dr Richard Paul reflects on his experience of speaking at Café Scientifique: 'Presenting my research at Café Scientifique was an excellent opportunity to engage the public in debate around the applications and validity of hair testing. The audience was lively and focused, and we had a lot of excellent, thought provoking questions.'


We are taking a break in January but we'll be back on Tuesday 4 February 2020!
If you have any questions please do get in touch
Find out more about Café Scientifique and sign up to our mailing list to hear about other research events: www.bournemouth.ac.uk/cafe-sci