Entering week 3 of the PGR Virtual Poster Showcase
Francesca Dean PhD student in the Faculty of Health & Social Sciences with this poster entitled:
'Exploring the experiences of sport psychologists working within elite youth football in England.'
Click the poster below to enlarge.
Successful performance in sport requ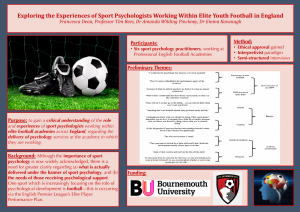 ires the execution of advanced psychological skills in both training and competition. Although the importance of sport psychology is now widely acknowledged, there is a need for greater clarity regarding (a) what is actually delivered under the banner of sport psychology, and (b) the needs of those receiving psychological support. One sport which is increasingly focusing on the role of psychological development is football—this is occurring via the English Premier League's Elite Player Performance Plan. As the first stage of a PhD programme, this study aims to examine the current knowledge and provision of sport psychology services delivered to youth performers within professional football academies in England. Semi-structured interviews will be conducted with six sport psychology practitioners working within professional academies in order to gain insight into their understanding of their role, their perception of (sport) psychology, and their experience of delivering psychology services at the academy level.
---
If this research has inspired you and you'd like to explore applying for a research degree please visit the postgraduate research web pages or contact our dedicated admissions team.