Next up in the PGR Virtual Poster Showcase:
Kelsie Fletcher, PhD student in the Faculty of Health & Social Sciences with this poster entitled:
'The momentum of grounded theory: Nursing research and new perspectives in disaster management'.
Click the poster below to enlarge.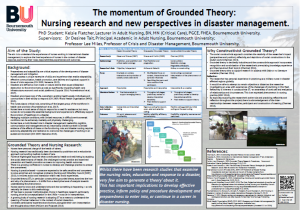 The purpose of this poster is to explore the background of Grounded Theory evolution to its application in disaster management and nursing theoretical development. It will examine why Grounded theory remains popular and useful in developing professional knowledge in healthcare research and, most importantly, why it is the methodology of choice for understanding the experiences of nurses working in a disaster region. Explicit links will be made to offer clarity of its appropriateness in this field of research and this will be enhanced by reflections of the researcher.  Nurses possess a unique opportunity to develop understanding of emergency management, public health and planning, to enhance potential responses to a disaster. Grounded theory aims to support research in subjects with little or no literature available (Charmaz 2014; Birks and Mills 2015). Due to the researcher's personal experience in disaster management provision, constructivist grounded theory is considered to be the most appropriate.
---
If this research has inspired you and you'd like to explore applying for a research degree please visit the postgraduate research web pages or contact our dedicated admissions team.