Latest addition to the PGR Virtual Poster Showcase:
Charlotte Clayton, PhD student in the Faculty of Health & Social Science with this poster entitled:
'Role of Midwifery continuity of CARE in reducing health inequalities.'
Click the poster below to enlarge.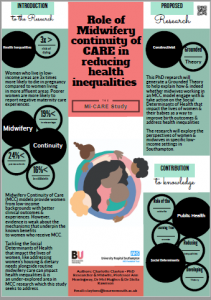 The impact of living in a deprived area on a low-income, has far reaching consequences on maternal and infant health. Studies show that in England, women living in the most deprived areas have some of the poorest birth outcomes, and are 50% more likely to die due to pregnancy related complications than women in the least deprived neighbourhoods. Between 2010-2020, life expectancy fell for women living in deprived areas in England compared to women living in the least deprived areas, who have experienced increases in their life expectancies. Women from low-income backgrounds are also more likely to report negative maternity care experiences.
The Social Determinants of Health (SDH) are the conditions in which people are born, grow, work, live, and age. They are themselves influenced by wider societal forces shaping our daily lives, such as the distribution of wealth, power, and resources. The SDH are mostly responsible for health inequity – the unfair and avoidable differences in health status seen within and between different people, populations, and countries. Compared with traditional healthcare which impacts upon approximately 20% of health outcomes, the SDH are estimated to impact upon approximately 40%. Evidence shows that taking action on the SDH affecting women from the most deprived areas alongside the provision of continuity of midwifery care; where there is consistency in the midwife providing hands-on care for a woman and her baby throughout the antenatal, intrapartum, and postnatal periods, improves birth outcomes and reduces health inequalities. How midwives working in caseloading teams providing continuity of care to women with complex social needs in areas of high deprivation, address the SDH as part of their expanding public health role is currently not clear. There is also a lack of contemporary qualitative evidence about the SDH impacting upon childbearing women's lives in England, from the perspectives of women themselves, which this research seeks to address.
This research will take place in the NHS, in a low-income setting in the South of England, and will follow a Constructivist Grounded Theory approach. Through the use of semi-structured interviews with childbearing women, and midwives working in caseloading teams, the study will generate a grounded theory to help explain how and indeed whether midwives engage with and take action on the SDH as part of their public health role. The study also seeks to better understand the SDH impacting upon women's lives from their perspectives and what mechanisms exist within the case setting to facilitate or obstruct midwives engagement with the SDH. Examining these domains will contribute to the evidence base about the impact of continuity of midwifery care for women and babies at increased risk of health inequalities. 
Charlotte Clayton is a Clinical Doctoral student in the FHSS and a midwife at University Hospital Southampton. She is due to start data collection once the NHS are able to re-commence their non-Covid 19 research activity. She is supervised by Professor Ann Hemingway, Dr Mel Hughes and Dr Stella Rawnson. Please feel free to get in touch with Charlotte for more information at: claytonc@bournemouth.ac.uk or @femmidwife on Twitter.
---
If this research has inspired you and you'd like to explore applying for a research degree please visit the postgraduate research web pages or contact our dedicated admissions team.