Poster Exhibition | The 12th Annual Postgraduate Research Conference 
Vanessa Bartholomew, PhD student in the Faculty of Health & Social Sciences with this poster entitled:
RETHINK – Can we reduce hospital admission in latent labour?
Click the poster below to enlarge.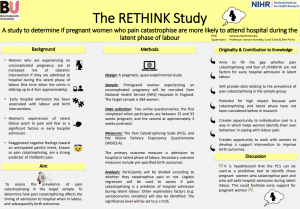 Background: Women experiencing an uncomplicated pregnancy are at increased risk of obstetric intervention if admitted to hospital during latent labour. Pain and fear are significant factors in early hospital admissions. Pain catastrophising (PC) is a strong predictor of childbirth pain. Studies have yet to consider whether PC influences the timing of hospital admission. Aim: To examine whether PC is a predictor for early hospital admission when in labour and subsequently birth outcomes. Design: A pragmatic, quasi-experimental study. Sample: Primigravid women who are experiencing an uncomplicated pregnancy, will be recruited between 25-33 weeks gestation. Target sample size is 384. Data Collection: Participants will complete two online questionnaires; one antenatal, the second three weeks postnatal. Birth outcomes will also be collected. Analysis: Logistic regression, will be used to assess if PC is a predictor of early hospital admission. Other explanatory factors (e.g. socioeconomic variables) will be considered. Significance level will be p≤0.05.
You can view the full poster exhibition on the conference webpage.
---
If this research has inspired you and you'd like to explore applying for a research degree please visit the postgraduate research web pages or contact our dedicated admissions team.