Poster Exhibition | The 12th Annual Postgraduate Research Conference 
Sulochanan Dhakal-Rai, PhD student in the Faculty of Health & Social Sciences with this poster entitled:
Factors contributing to rising caesarean section rates in South Asian Countries: a systematic review.
Click the poster below to enlarge.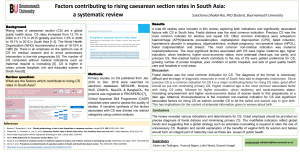 Background: Caesarean Sections (CS) can save a mother's life in childbirth but can also be an unnecessary medical intervention in a natural process. This systematic review investigates factors/indicators affecting increasing Caesarean Section rates in South Asia. Methods: Quantitative studies published from 2010 to 2018 were found on electronic databases. Critical Appraisal Skill Programme checklists were used for assessing the quality. Narrative synthesis of the indications/factors associated with CS was divided into distinct categories using content analysis. Results: Sixty-eight studies were included and both CS indications and significant associated factors were explored. The most common medical indications of CS were foetal distress and previous CS. Higher maternal age was the most common associated factor followed by higher education and urban residency. Maternal request was the most common non-medical indication of CS. Conclusion: Modifiable indicators/factors reflect global trends, suggesting we need a global strategy to stem the rise of unnecessary CS.
You can view the full poster exhibition on the conference webpage.
---
If this research has inspired you and you'd like to explore applying for a research degree please visit the postgraduate research web pages or contact our dedicated admissions team.