Poster Exhibition | The 12th Annual Postgraduate Research Conference 
Bronwyn Sherriff, PhD student in the Faculty of Health & Social Sciences with this poster entitled:
Coping with Covid-19: reflecting on the process of modifying methods midway.
Click the poster below to enlarge.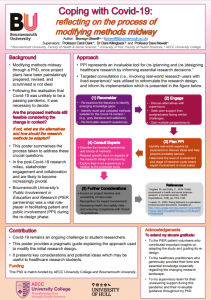 Background: Few PhD students wish to be faced with the task of adapting their research methods, especially midway, when timelines and project plans have been painstakingly prepared, revised, and scrutinised. Following the realisation that Covid-19 was unlikely to be a passing pandemic, this poster summarises the process taken to address the crucial question: Are the proposed methods still feasible considering the change in context? Approach: Although problem-solving and flexibility are important characteristics of any researcher, in the postCovid-19 research milieu, the role of collaboration and stakeholder engagement are likely to become increasingly pivotal. Both represent invaluable tools for (re-)planning and (re-)designing healthcare research by informing essential research decisions. Contribution: The impact of Covid-19 remains an ongoing challenge to student researchers. This poster provides a pragmatic guide, particularly for healthcare research students, by explaining the approach used to modify the initial research design and presenting key considerations which may be useful.
You can view the full poster exhibition on the conference webpage.
---
If this research has inspired you and you'd like to explore applying for a research degree please visit the postgraduate research web pages or contact our dedicated admissions team.