The gap in health service provision for Gypsy, Roma, and Travellers communities is well documented in Dr Vanessa Heaslips' extensive research. Vanessa, an Associate Professor in the Department of Nursing Science was invited to present her work '"Inequalities in health of Gypsy, Roma, Traveller, Communities" to sixteen staff from departments including Dept of Education, Office for National Statistics, Minister of Housing and Communities, Department of Health, Department for Social care, Cabinet office and Dept for Work and Pension.
The presentation titled started with an introduction to 'Alice, my husbands' nan'. Alice was a Romany Gypsy and a member of the Showman community. It was being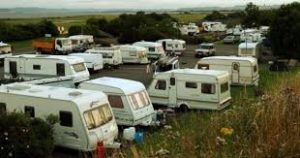 with Alice at the end of her life and witnessing the interactions between healthcare staff and herself which inspired the research. The presentation went on to explore on-going challenges such as poorer health outcomes, social exclusion, discrimination, and lack of cultural sensitivity that many Gypsy, Roma, Travellers face. As well as current problems posed by a lack of robust data collection as healthcare organisations do not use include Gypsy, Romany and Traveller as part of their ethnicity data collected. Dr Heaslip argues argued that failure to do so negatively impacts on developing robust public health initiatives to address these poorer health outcomes and is a key factor in understanding why so little progress have been made over the past two decades.
A wide ranging discussion regarding engaging with individuals in these communities ensured, and the session concluded with some thoughts as to how to move this significant national agenda forward. More information on this research is available from https://staffprofiles.bournemouth.ac.uk/display/vheaslip#publications  and follow Vanessa on Twitter @HeaslipVanessa, @Nursing_BU, and @N4LTH