Research is a priority, it matters, and it is everyone's responsibility here at BU. In April, we focus our stories on BU internal funding panels. This post shares the information about the Global Challenges Research Fund (GCRF) funding panel and awarded projects.
GCRF funding enables BU academics to undertake research in partnership with organisations in developing countries. Projects are aimed to help build collaborations with researchers, policymakers and practitioners, ensuring that the research provides tangible outcomes and impacts for people in those countries.
The GCRF panel is led by the Chair, Professor Lee Miles, and Vice-Chair, Luciana Esteves.
Travel restrictions introduced due to the pandemic have sometimes been a challenge for academics, however, everyone has demonstrated flexibility in adjusting project plans to minimise their impact on project delivery. This has even delivered some benefits, for example, encouraging greater partnership working and ensuring that projects are efficiently implemented by in-country organisations.
Funded projects
There have been quite a few previous posts on BU Research Blog related to GCRF funded projects; you can read more about such projects as 'Rohingya refugee crisis' (Bangladesh), 'Indigenous people's voices' (Costa Rica and Malaysia), 'Child soldiers' (Colombia) and 'Driving African Capacity-Building in Disaster Management' (Sierra Leone, Senegal and Cameroon). In total, 22 GCRF applications have received funding.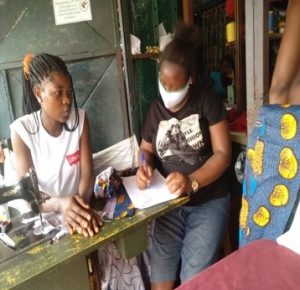 One of the internally funded GCRF projects – 'Enhancing Livelihood Resilience of Protracted Internally Displaced Persons (ELIED)' – is led by Dr Henry Bang. The PI kindly provided a brief overview of the project and the work done so far.
'The project was conceived against the backdrop of Cameroon's Anglophone Crisis (AC). The AC is rooted in the country's troubled colonial history that eventually gave birth to its dual bi-lingual heritage (French and English official languages). The ongoing conflict started in 2016 as peaceful street demonstrations by lawyers and teachers' trade unions against the obligatory use of French language in the educational and legal systems in Cameroon's two Anglophone Regions. The government's harsh response eventually gave rise to secessionist groups in the Anglophone region that have led to armed confrontation with government security forces. The four-year conflict has led to more than 63,000 refugees and 679,000 internally displaced persons.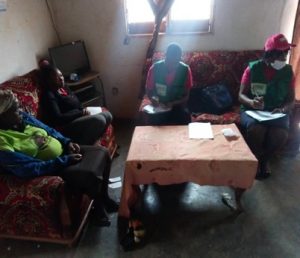 These persons are suffering several vulnerabilities associated with separation from the nurturing environments of their original/home communities. Notably, are deprivation from basic necessities like regular access to food and other essentials such as education and easy access to health care. This is mainly because they rely heavily on food aid and assistance from well-wishers and donors. Living such unsustainable lives requires targeted attention. Hence, this GCRF project aims to improve and enhance the welfare and build livelihood resilience for the internally displaced persons who are scattered around Cameroon's 10 regions. A strategic objective is to shape the livelihood opportunities of the population to be non-aid dependent.
The project is moving at an endurable pace, adjusted in accordance with COVID-19 restrictions to achieve the project objectives by the deadline of July 31st, 2021. The PI, with in-country collaborators, have engaged multiple NGOs and research assistants to collect data from the internally displaced persons' (pictures here are taken by in-country collaborators and illustrate data collection by NGOs).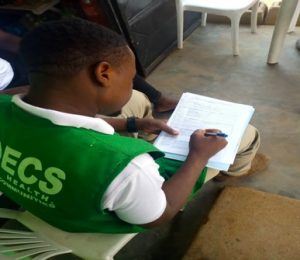 This project involves many challenges, considering the constrained budget and the scope of work involved, especially in securing a representative sample from around the country. Data collection from the NGOs is in progress after initial meetings and focus group discussions that led to the identification of key themes for further investigation.
According to the PI, 'The challenge, though, is getting insights from the government, which is invaluable considering government's expected dominant role in safe guiding the lives/livelihoods of the internally displaced persons. Plans are in place to achieve this objective with the appropriate budget as initially planned. In-dept analysis based on triangulation of data from the four data sets would enhance the validity, credibility, and generalization of the research.'
'There is optimism that ELIED will achieve its aims/objectives with desirable outcomes that would have a huge academic/research and practical impact on sustainable livelihoods/development in Cameroon' Dr Bang concludes.
The panel Chair suggested that at least two more projects with a high impact have to be mentioned in this short blog post – 'Aftershock Nepal' project and the MAAR (Media Action Against Rape) project addressing rape prevention in India. Both projects are led by Professor Einar Thorsen and Dr Chindu Sreedharan. It's important to mention that the latter led to follow-on joint initiatives.
Future of GCRF funding
UK universities have received formal notifications from UKRI and Research England that there will be no further QR GCRF funding after July 2021. So, for the remaining period we need to ensure that the projects are successfully completed by the end of this financial year. Another important task will be reporting back to Research England in autumn.
The next post, coming up tomorrow, will be about the ACORN internal funding panel.