All research has its costs, we spend a lot of time as academics planning for and budgeting our studies.  This starts with considering how much time each academic spends on preparing the grant application and finished with cost of dissemination of findings after the data have been analysed.  We do risk assessments the try to reduce risk and mitigate unforeseen circumstances.  My last two trips to Nepal both suffered from such unexpected events.

In May I traveled to Nepal with Prof. Vanora Hundley from the Centre for Midwifery, Maternal & Perinatal Health (CMMPH) as part of the ERASMUS+ exchange with Manmohan Memorial Institute of Health Sciences (MMIHS) where we joined by Bournemouth University (BU) PhD student Sulochana Dhakal-Rai.  Sulochana was in Nepal on the Turing Scheme, the UK government's programme to provide funding for international opportunities in education and training across the world.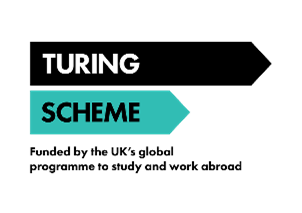 As part of this trip we had organised a one-day Systematic Review on Dementia Research Workshop on Sunday 29th May in at MMIHS in Kathmandu.  This Global Challenges Research Fund (GCRF) funded workshop was highly successful, it attracted 75% more participants than budgeted for, namely 53 instead of 30.  However, the extra cost this incurred in terms of workshop resources, refreshments and lunches was not a great issue compared to the fact that I had contracted COVID-19 a few days before the workshop and had tested positive on a PCR test two days before.  Thanks to the hard work of our colleagues at MMIHS, the non-governmental organisation (NGO) Green Tara Nepal, and especially, Prof. Vanora Hundley, the workshop run very well.  I even managed to make a guest appearance online from my hotel room 200 meters away from the workshop venue, albeit on a poorer quality internet connection than I would have had half way across the globe (at BU or at home).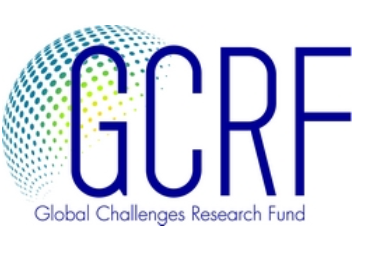 This positive COVID-19 test also meant I could not travel on the India in early June due to COVID-19 travel restriction for entering India.  There I had planned to meet Dr. Shanti Shanker from BU's Psychology Department as part of our GCRF-funded project 'Promoting dementia research in Nepal and India'.   Again due to the presence of well organised colleagues the India part of the trip ran smoothly.  Dr. Gayatri Kotbagi, who has works for us through the charity Sheetale Astitva, and Dr. Shanti Shanker managed to run the internal trip very well without me.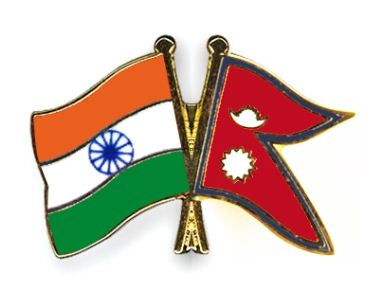 In August I traveled to Nepal again with two BU academics: Dr. Shovita Dhakal Adhikari, Lecturer in Criminology, Department of Sociology & Social Work, Dr. Pramod Regmi, Senior Lecturer in International Health (Department of Nursing Sciences) and a colleague from the University of Exeter Dr. Emma Pitchforth.  The main purpose of this visit was to run two sets of three-day Academic Writing Workshop in two cities in Nepal, namely Kathmandu and Pokhara. These workshops were funded by the British Academy and supported by Dr. Rashmee Rajkarnikar from the Central Department of Economics at Tribhuvan University, Nepal's oldest and largest university, the charity Green Tara Nepal and Social Science Baha.  This time the trip itself went very well, both workshop were very well attended, and even made it into a newspaper in Nepal: The Rising Nepal.

The trouble started after we had left Nepal.  Dr. Pitchforth and I helped both fell ill some five to eight days after returning to the UK.  We both had flu-type symptoms, including sore joints, night sweats, feeling tired, coughing, etc., although these were not exactly the same, my symptoms were perhaps a bit more like COVID-19.  Which is why I did three COVID-19 tests in one week (all negative).  It was not until the blood test came back from the NHS lab last week that my family doctor could tell me that I had dengue fever.  Dengue fever is on the rise in Nepal.  The national English-language paper The Himalayan Times reported yesterday (27th Sept. 2022) that dengue fever "has afflicted almost 26,000 people in Nepal"  In July in the capital Kathmandu "…35 people had contracted the mosquito-borne disease. The number increased to 727 in August and 8,132 in September."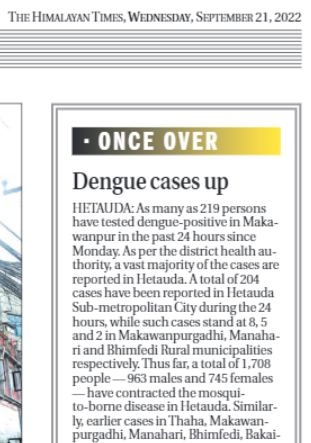 I'm looking forward to my next trip to Nepal, as  we have loads of on-going project.  I have been going there for nearly twenty years, and having two incidents in two decades is not a lot, pity these came in the same year and on subsequent trips.
Prof. Edwin van Teijlingen
CMMPH