As the Paralympic Games comes to Channel 4 and with disability emerging as a major theme at this week's Edinburgh Television Festival, BU's Faculty of Media & Communication publishes its latest industry research findings: Disability by Design: Representation in TV. Described as an "amazing report" by Jack Thorne during his powerful MacTaggart Lecture on Monday evening, the study was based on a survey of more than 200 disabled television workers.  Researchers found that almost 60% of its industry respondents had experienced ableism or discrimination in the workplace. Almost half had faced ableist language and microaggressions and around a quarter reported being bullied or harassed.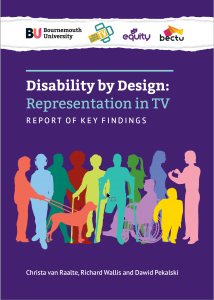 The report goes on to suggest that employers are too often "blithely disengaged" from their responsibilities under the Equality Act 2010, identifying a "fundamental lack of understanding at the top". More than a third of respondents reported that employers had failed even to ask about their basic access needs. The report calls for mandatory training for all employers, for all broadcasters to have dedicated disabled diversity and inclusion execs and to commit to upskill mid- to senior-level talent.
The research was commissioned by campaign group Deaf and Disabled People in TV and sponsors include the unions Equity and Bectu. The report was written by Christa van Raalte, Richard Wallis and David Pekalski (the same team that authored the recent assessment of management practices in unscripted television).
---
The full report can be downloaded from here:
van Raalte, C., Wallis, R. and Pekalski, D., 2021. Disability by Design: Representation in TV. Technical Report. Poole, England: Bournemouth University.