In a follow-up to BU's recent research investigating the current state of the UK television industry's workforce (State of Play), we are excited to be working once again with the TV union Bectu. This time we are examining the experience of disability, joining forces with the actors' union Equity, and the group Deaf and Disabled People who work in TV (DDPTV).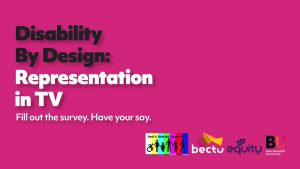 Disability by design: Representation in TV – our new survey launched earlier this week – is part of a wider effort to address concerns about the under-representation of deaf and disabled professionals in the TV workforce. The outcome of our survey will help to inform approaches to amplify the voices of deaf and disabled professionals, educate on legal obligations and provide examples of lived experience. The project is part of an evolving package of work within FMC focused on the experience of media work (and work in the television industry in particular) which is highlighting some of the more problematic and often overlooked structural issues that beset these industries.
For further information about this and related research into work in the TV industry, contact Dr Christa van Raalte or Dr Richard Wallis.