At Café Scientifique, you can explore the latest ideas in science and technology in a relaxed setting. Enjoy listening to a short talk before engaging in debate and discussion with our guest speaker and audience.
We'll be joined by Dr Festus Adedoyin on Tuesday 4 October from 6:30 – 8:00pm.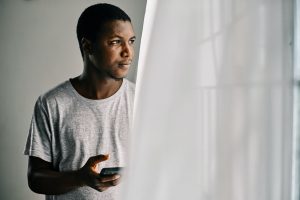 Digital healthcare for LGBTQ+ communities in Africa
In Nigeria, LGBTQ+ people are often criminalised and discriminated against, meaning they are less likely to seek medical help despite suffering higher rates of HIV/AIDS, mental health conditions and other problems.
To tackle this problem, Dr Festus Adedoyin is developing a digital solution to provide safer access to healthcare, working with NGOs, social workers and people across the medical field on a confidential and secure online platform.
Join us at Café Scientifique to discover the challenges and rewards of developing a digital solution in a complex social situation.
This event will be held at The Black Cherry in Boscombe, Bournemouth. Although the talk starts at 6:30pm, the café will be open early so we encourage you to arrive early for a drink and a bite to eat before the talk starts.
Attendance is free but booking is required

Should you have any questions about this event, or if you would like to get involved with a future Café Sci talk, please contact the Public Engagement Team; publicengagement@bournemouth.ac.uk