BU's Dr Keith Parry co-authors this article for The Conversation about the risks of playing rugby at school…
School rugby should not be compulsory and tackling needs to be outlawed – here's the evidence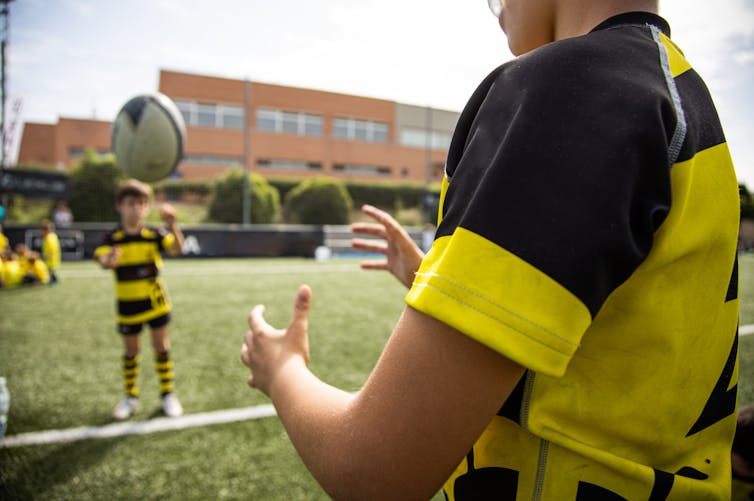 Keith Parry, Bournemouth University and John Batten, University of Winchester
Rugby has a higher rate of injury than most other sports frequently played in schools in the UK. It is a collision sport where players purposefully tackle each other, which can result in serious injury, such as to the head and neck.
The risks of injury, and particularly brain injuries, from playing rugby are now widely recognised. And yet it remains a compulsory sport in many schools.
Tackle rugby should not be compulsory in any school, for any age of children. Where rugby is compulsory, it should be non-contact.
What's more, schools should provide children and their parents with information on the dangers involved with playing sports like rugby at school.
School rugby
Research with 825 teenage school rugby players over one season found that more than one in three of the children suffered an injury from playing full-contact rugby. Almost half of these injuries were serious enough that the child could not return to play rugby for 28 or more days.
These injury concerns are also recognised by teachers. Our research has found that 67% of teachers in charge of school PE believe rugby union is the sport that puts children at the greatest risk of harm.
Despite the high risks involved with playing rugby, our research also shows that it is one of the most common sports in schools. We surveyed 288 state-funded secondary schools in England and found that rugby union was played in 81% of these schools. It is more common for boys to play rugby, but over half of the schools offered rugby for girls.
What is more worrying is that rugby is compulsory in the majority of the secondary schools we surveyed. Where schools offered rugby for boys, in 91% of cases it was compulsory. And 54% of schools that taught rugby to girls made it compulsory.
The risks of playing
In elite sport, understanding of the risks of playing rugby is growing. Concussion is the most common injury suffered by elite-level rugby players according to the Rugby Football Union (RFU), the governing body of rugby in England. Professional rugby union players are more likely than not to have suffered a concussion after playing just 25 matches.
This rate of injuries is growing. Some attempts to improve safety in the wider sport have been made. In community rugby, for example, the permitted tackle-height has been lowered.
But research has found that lowering the tackle height might not reduce the number of concussions suffered by players.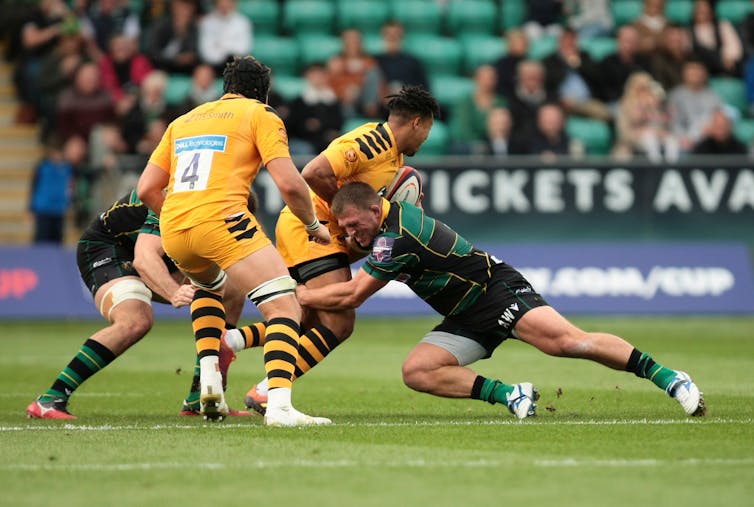 Repetitive head impacts, such as those that happen in rugby, can also cause neurodegenerative diseases such as chronic traumatic encephalopathy and dementia.
Nearly 200 former players are suing the governing bodies of rugby. These players are suffering from neurological impairments and claim that World Rugby, the RFU and the Welsh Rugby Union did not protect players enough from permanent injuries.
Current England player Courtney Lawes has recently said that he would have reservations about his children playing professional rugby, because the financial benefits are not worth the injuries that come from playing the sport.
The risks remain at amateur levels. Amateur rugby players are also taking legal action against the same governing bodies who, they say, did not protect them from brain injuries during their playing careers.
For a number of years, academics and medical professionals have been calling on the UK government to remove the tackle from rugby in school physical education. However, considerable resistance to removing tackling remains.
Rugby, particularly at school level, does not need to include tackling. Safer versions of the sport, such as tag rugby, already exist.
Rugby can be played without tackling and still provide a wide range of physical and mental health benefits that help children stay physically active and maintain psychological wellbeing. School rugby must change to keep children safe.

Keith Parry, Head Of Department in Department of Sport & Event Management, Bournemouth University and John Batten, Senior Lecturer in Sport and Exercise Psychology, University of Winchester
This article is republished from The Conversation under a Creative Commons license. Read the original article.