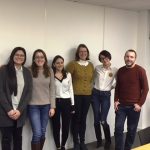 Six of  the ADRC PhD students gave short presentations of their plans and findings  at the end of year ADRC  Christmas seminar held on 12th  December. They included the following:
Yolanda Barrado-Martin : Process evaluation of a Tai Chi exercise intervention to prevent falls among older people with dementia.
Raysa El Zein : Dietary intervention study using coconut oil to evaluate effects of ketone metabolism in older adults.
Christopher Hilton : The role of attention in spatial (dis)orientation in people with early signs of dementia.
Joanne Holmes : An exploration of the factors that affect the extensive meal experience for cognitively active elderly living in residential care.
Mananya Podee : Improving holiday accommodation and service provision for people with dementia: An exploration of needs and expectations.
Vladislava Segen : How does ageing affect ability to recognise places, stay oriented & navigate successfully?
It was a highly successful afternoon with lots of good discussion and challenging questions posed for our students.  Well done to everyone who presented and we look forward to hearing more about your great work in due course!