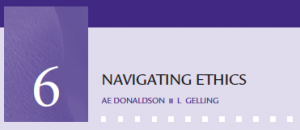 Earlier this month Elsevier published the 6th Edition of 'Navigating the Research Maze: enhancing nursing and midwifery practice'.  Edited by Debra Jackson, Tamara Power and Helen Walthall, this book seeks to demystify some of the complexities in planning, conducting and reading research and draws on a wide range of research leaders from around the world as authors.  This book could be a useful addition to reading lists for students undertaking units focusing on research and evidence-based practice.
It was a pleasure to work on Chapter 6 (Navigating Ethics) with Andrea Donaldson from Massey University in New Zealand.  It was interesting to learn how research ethics is managed differently in different parts of the world but also reassuring to confirm that the underpinning ethical principles are the same wherever research is conducted.
Sometimes it can be hard to see how new editions of books have changed but in developing this edition efforts have been made to add useful resources for both students and lecturers.  Readers can access student challenges, quizzes, resource kits, Powerpoint slides, a test bank and teaching tips for each chapter.