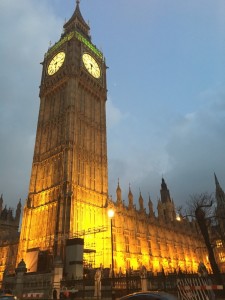 In the last few months, Dr. Dinusha Mendis, Associate Professor in Law and Co-Director of the Centre for Intellectual Property Policy and Management (CIPPM) was invited to speak at the House of Lords and deliver a keynote speech at a leading London Law Firm, Herbert Smith Freehills. The invited talks involved disseminating her recent research into the intellectual property (IP) implications of 3D printing.
Earlier this year, Dr. Mendis was invited by Herbert Smith Freehills LLP, to deliver a keynote speech at their annual Intellectual Property Update Conference . The event attended by over a 100 delegates, included companies such as BBC, BT, Lloyds Banking Group, Barclays, Jaguar Land Rover,  Sky Plc, Sony, PLC Thomson Reuters, Oxford University Press, Walt Disney, Warner Bros Entertainment, Wellcome Trust and Unilever to name a few.
Dr. Mendis delivered the keynote speech on 'The Challenges and Opportunities Presented by 3D Printing'. In delivering the keynote, Dr. Mendis spoke about the research carried out for the UK Intellectual Property Office Commissioned project, which was completed in 2015, whilst also giving an insight into the research being carried out at present.
The IP Update Conference was chaired by Mark Shillito (Partner, Head of Disputes, UK and US; and Global Head of Intellectual Property).
Further information on the presentations and the speakers can be found on the Conference programme.
Herbert Smith Freehills LLP is an award-winning leading London law firm which has 24 offices spanning Europe, US, Asia, Australasia and the Middle East.
During Spring 2016, Dr. Mendis was invited to present her research on 3D printing in the context of its impact of emerging technologies copyright and software at the House of Lords, Palace of Westminster.
The event was organised by Mr. Julian Hobbins, Deputy Chairman of the Federation Against Software Theft (FAST) and hosted by Lord Tim Clement-Jones (Spokesperson for Creative Industries) of the House of Lords.
Dr. Mendis's presentation titled '3D Printing, Copyright and Software: What is the Mischief'? explored the intellectual property implications surrounding Computer-Aided Design (CAD) files needed for 3D printing and the legal position from a UK and European perspective.
Other speakers on the day included Mr. Richard Bach, Assistant Director of the Cyber Security Digital Economy Unit DCMS and Mr. Richard Pharro, CEO at APMG – Cyber Essentials.